November 8, 2019
2019 Colorado Elections
Thank you to everyone who ran for office to serve in these critical local elections and a big thank you to everyone who voted! Every vote counts — and in fact some votes are still being counted. Unfortunately Prop CC to end Doug Bruce's stranglehold on the Colorado economy did not pass. Prop DD to legalize and tax sports betting to pay for water projects did pass. Many local bond and tax measures did pass — some didn't. Congratulations to everyone who won their elections and to those that didn't — thank you for your willingness to run and lead. Democracy is not a spectator sport.
Other 2019 Elections
The nation had its eyes on Kentucky and Virginia on Tuesday night, as Democrats made history in places they're "not supposed to win"! In Virginia, Democrats won majorities in the state House and Senate. With their Democratic Governor, that means they have a Dem-trifecta for the first time in 26 years!
In Kentucky — where President Trump put a ton of political capital into campaigning for unpopular governor Matt Bevin — it was a nail-biter as Democratic Attorney General Andy Beshear won the governorship by a little over 5,000 votes.
These victories — in addition to incredible news like Democrats won the majority for the first time in 40 years of the city council in Columbus, IN which is Mike Pence's hometown and that Democrats shellacked Republicans in the once GOP-stronghold of Delaware County in Philadelphia, PA — show that we have the momentum nationwide going into 2020!
---
2020 Election: Less than One Year Away
As of today, there are only 361 days until Election Day 2020. With Kentucky electing a Democratic governor and Virginia flipping their state Senate and state House), we know that Democrats nationally have the momentum going into 2020.
Here's one thing to keep in mind about the Kentucky win — Governor Matt Bevin of Kentucky is the 2nd most unpopular politician in Kentucky. Want to guess who #1 is?
In 2020, Kentucky not only has a chance to unseat Mitch McConnell, but here in Colorado, we have an opportunity to defeat Moscow Mitch's Senate Majority by unseating his right-hand man, "Comrade" Cory Gardner. Want to help?
Get your very own "Say Do Svidaniya to Comrade Cory and Moscow Mitch in 2020" t-shirt or stickers! All proceeds go towards our efforts to defeat Cory Gardner and launch a blue wave in 2020! CLICK HERE TO VISIT THE DEM STORE!
---
Nominate Awardees for the 2020 Obama Dinner!
Want to help us choose who will be named Democrat of the Year? Or given the Rising Star Award? Or named Volunteer of the Year?
Nominations for who will be honored at the 3rd Annual Obama Dinner on Saturday, April 18, 2020 are now open! Click here to tell us who YOU think should recognized at the Colorado Democratic Party's biggest annual celebration!
FYI:
Tickets and table are NOW AVAILABLE for the 3rd Annual Obama Dinner -- the Colorado Democratic Party's biggest fundraiser and gala dinner of the year! Buy your tickets here and your tables here!
We had our own historic night in 2018. BUT -- if we want to send Cory Gardner packing, reject Donald Trump in Colorado again, defend Congressman Jason Crow in the CD6 seat we flipped, and to defend our majorities in the Colorado House and Senate... WE HAVE WORK TO DO.
Here's a couple ways you can help launch a blue wave in 2020! You can:
Help us register more Democrats to vote! Email Tyler McDermott about how you can do that at

This email address is being protected from spambots. You need JavaScript enabled to view it.

!
Join our Talent Bank! Everyone has a talent, whether it's writing or designing or translating or data entry. CLICK HERE to add your name to the talent bank!
Here's why -- with your help -- we can defeat Cory Gardner and Donald Trump:
Colorado rejected Donald Trump's corruption and divisiveness both in 2016 and 2018, and it's only gotten for worse him. Trump has seen his Colorado approval rating fall and his disapproval rating rise since he's been in office (according to Morning Consult).
Whether it's Trump's relentless assault on Coloradans' healthcare, his reckless trade war with China that's hurt our farmers, or his massive tax giveaway to the ultra-wealthy and big banks, Trump's policies have hurt Colorado's working families.
While Colorado's Democrats in Washington have passed bills to protect working families' healthcare and tackle the climate crisis, Cory Gardner has been Mitch McConnell's right-hand man and Donald Trump's rubber stamp.
Cory Gardner has voted at least 13 times to repeal the Affordable Care Act. Since he's been in the Senate, he's supported efforts to gut healthcare protections for Coloradans with pre-existing conditions, and he supports a GOP lawsuit that could overturn the entire ACA.
Here's why we need to elect Democrats to the U.S. Senate and to the White House AND protect our majorities in the Colorado House and Senate:
With Democrats in charge in the U.S. House, Colorado working families' priorities are being addressed. This wouldn't be possible without our four Colorado House Democrats!
The House Democratic Majority has passed over 200 pieces of legislation to the Republican-controlled Senate. There bills:
Under the leadership of Governor Polis and our Democratic majorities in the state Senate and House, Colorado has seen legislation signed into that will immediately benefit working families, like full-day kindergarten and the $100/month cap on life-saving insulin.
Despite obstruction from Republicans, Democrats have also passed bills to address the climate crisis so we can protect our clean air and water, and have passed sweeping criminal justice reforms to give those who have paid their debt to society a second chance.
---
Join the High Fivers Club!
"What's the High Fivers Club", you ask? It started with a simple idea: There are nearly 1.2 million registered Democrats in Colorado -- what if every single one of them gave just $5 a month to the Colorado Democratic Party (CDP)?
Answer: The CDP would be the best-funded state party in the country -- with zero dollars from corporate PACs and plenty for flipping red seats to blue!
If you haven't given to the CDP yet, here's a few simple reasons why we're asking you today:
The CDP is the central base that supports volunteer recruitment, training candidates, and helping county parties win elections. While the DNC provides some limited funds, the reality is it is up to us to raise our own money so we can support Democratic candidates running for office in Colorado.
The CDP is neutral in primaries -- but once the Democratic nominee has emerged, we connect our vast network of volunteers to them so they can knock on more doors than the Republicans.
Elections and candidates come and go, but the CDP remains. We provide continuity so candidates don't have to reinvent the wheel every cycle.
Will you join the High Fivers Club? Click the logo below to join!
---
Rural Spotlight from Shelia: Saguache County
Saguache County is located a little south of central Colorado with 3,168 square miles wedged between the Sangre de Cristo and San Juan Mountains. To the north of Saguache you will find Gunnison County and Chaffee County, to the east Fremont and Custer County, to the south Alamosa, Rio Grande Counties and Hinsdale and Mineral Counties to the southwest. Saguache is the county seat of Saguache County.
The word Saguache, pronounced "Sa-watch," is derived from the Ute language and means "blue-green Earth"—a reference to the forested zone between high mountain peaks and valley floors. The Poncha and Cochetopa Passes offered a great transportation corridor for the seventeenth and eighteenth centuries when the Ute people inhabited Saguache County. The Tabeguache, Muache and Capote Utes were the dominate groups in the area, but Navajo, Comanche, Cheyenne, Arapaho and Kiowa people also lived nearby and occasionally contested the use of the valley. Formed on December 29th, 1866 Saguache County offers, as it does today, vast lands for farming and cattle grazing. In 1880 the town of Crestone was founded as a trade center for the El Dorado and Crestone Mining District. Saguache has 743,544 acres of public land for numerous outdoor activities, including the popular Great Sand Dunes National Park and Preserve.
Saguache County maintains a beautiful shade of Blue with a little Red mixed into local elections. There are approximately 1,503 registered Democrats, 852 Republicans and 1,416 Unaffiliated voters in Saguache County. In 2018 61.41% of the voters had their ballots counted. Randal Arredondo leads the Democrats in Saguache County. If you would like more information please check out their website at https://saguachecountydems.org or join the conversation on their Facebook page: Saguache County Democratic Party.
Keep Colorado Wild
Shelia
Shelia Canfield Jones
Vice Chair, Rural Outreach
Colorado Democratic Party
---
Volunteer of the Week: Larry C.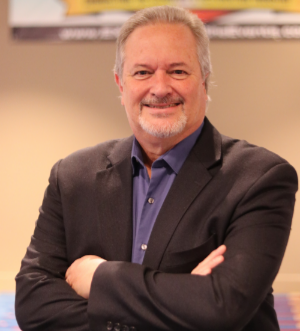 Meet Larry, the Chair of the 2020 Obama Dinner and our volunteer of the week! Larry is a professional event planner and manager with years of experience, and is a superstar volunteer for the Colorado Dems.
Why Do You Volunteer?
I've been very successful in my business and I want to give back in some way. I enjoy working with the Colorado Democratic Party and with Chair Morgan Carroll, and I figured with my skills, I can donate my time to help the CDP have successful events.
What would you say to someone who has thought of volunteering, but hasn't taken that first step?
Just ask! I didn't know how to volunteer, so I just emailed Morgan out of the blue and said that I was interested in volunteering and helping in any way I can. Fast forward months later, and here we are! Just take that first step and email someone at the CDP -- they'll point out where you can best be helpful!
Sign up for "Work for the Wave" Webinars!
Our party wouldn't be as organized and successful as it is without the talented and dedicated volunteers we have at the local levels. Want to brush up on your skills so you can help make sure Colorado goes blue in 2020? Sign up for an upcoming webinar:
November 11: Citizen Lobbying (Hosted by Morgan Carroll)
How do you exercise your power as an individual and citizen to engage with lawmakers and affect change in Colorado? Learn from CDP Chair (and former Colorado Senate President) Morgan Carroll on how to talk to lawmakers and how to become an advocate on issues you care about!
November 25: Delegate Selection Plan (Hosted by Morgan Carroll and Doug Schroeder)
How will the Colorado Democrats assemble a group of delegates that reflects our state's values and increasingly diverse population? Hop online to learn about the Delegate Selection Plan!
December 9: Messaging and Disinformation (Hosted by Halisi Vinson and David Pourshoushtari)
How do Democrats win the narrative, and ultimately break through all the noise to get their message out there? Learn from CDP Executive Director Halisi Vinson and Communications Director David Pourshoushtari about how to get your message out there through traditional and digital media!
December 16: Ranked-Choice Voting (Hosted by Linda Templin)
Ranked-choice voting is an electoral system in which voters rank candidates by preference on their ballots. Want to know how this works out in Colorado? Check out this webinar in December!
---
On the Road!
CDP Chair Morgan Carroll and Executive Director Halisi Vinson attended a lunch with Congressman Joe Neguse and Rhode Island Democratic Congressman David Cicilline. CDP 1st Vice Chair Howard Chou and CDP Volunteer Coordinator Karin Asensio attended election night watch parties in Arapahoe and Douglas Counties.
Share the Dispatch
If you know someone interested in receiving our weekly newsletter, they can sign up here!