The Democratic Dispatch 1
December 23, 2020
WHAT. A. YEAR.
This'll be the last edition of the Dispatch for 2020. We'll see you on January 6, 2021!
From Zoom Meetings and a virtual Obama Palooza, to electing Joe Biden, Kamala Harris,
John Hickenlooper, and Democrats up and down the ballot, 2020 was one for the ages.
Well, dear readers, 2020 -- the longest year ever -- is drawing to a close. While it's not over yet (with a decisive runoff election in Georgia) we wanted to close out the year with this edition of the Democratic Dispatch -- starting with a final 2020 note from Colorado Democratic Party chair Morgan Carroll!
From the Desk of the CDP Chair
Greetings!
It has been quite the year here in Colorado and in our country, as we have faced unprecedented challenges again and again. A once-in-a-generation health crisis upended best laid plans for campaigns, with countless families here in Colorado and across our country staring at empty chairs at the dinner table that once belonged to loved ones they lost COVID-19. To those who lost family and loved ones to the virus, our hearts are with you and we mourn for your loss.
As I reflect on this year -- one unlike any I have ever seen in my many years in politics -- I cannot help but feel thankful and grateful to all of you for your dedication to defending democracy and saving our country from a power-hungry tyrant. A man whose incompetence and pettiness led to so many needless deaths from COVID-19. While I celebrate with you that in less than a month, we will swear in President-elect Joe Biden and Vice President-elect Kamala Harris into office, I urge us all to never forget the consequences of electing a man like Donald Trump. We came perilously close to losing democracy in this country.
I am so grateful to all the candidates who stepped up to run for office, whether they won or not. And I urge those of you who were not successful this time around to not give up. Remember -- Barack Obama lost his first run for Congress years ago. Our party and our state needs good people like you to step up and run for office. And in the future, your opportunity will come.
I am also thankful and grateful to the CDP staff. They put in countless hours, often during nights and weekends, to help run thousands of caucuses and assemblies, to provide support to candidates and county parties in all 64 counties, to run trainings and outreach efforts, to ensure that the wheels of democracy could continue to move forward in the midst of the pandemic.
I also would like to thank our CDP statewide officers and our county level officers. They do some of the most important work of the Democratic Party -- all on a volunteer basis. The officers in our party are the backbone of the CDP, and without them, we would not have had all the successes we did this year.
Finally, I want to thank the thousands of grassroots volunteers who stepped up in a big way to help us adjust to COVID-19 and still get the word out to encourage people to vote. This was certainly not a normal year, and we had to adjust our campaign tactics in order to keep our communities safe from the virus.
But with your help, we sent out millions of text messages, made millions of phone calls, and helped hundreds of thousands of people get their votes turned in to elect Joe Biden and Kamala Harris, John Hickenlooper, Diana DeGette, Joe Neguse, Jason Crow, Ed Perlmutter, our Democratic majorities in the state legislature, our NEW majority on the CU Board of Regents, and countless Democrats to local offices like District Attorney and County Commissioner who will do so much good for their communities!
Thank you for being an important part of making history and a better future for us all. I am so excited for 2021 and 2022, and I can't wait to speak with you again to about how you can get stay involved to continue to move our state forward, and to build a better future for all!
In Solidarity,
Morgan Carroll, Chair
Colorado Dems
---

COVID-19 Update


Governor Jared Polis opens up a box containing Colorado's first doses of COVID vaccine.
Photo Credit: David Zalubowski/AP
The first round of COVID-19 vaccines have arrived. The vaccine will be rolled out in phases. Check this infographic and see where you fall under, and click here to learn more about when/where you'll be able to receive the vaccine!
---

SAVE THE DATE: 2021 Obama Dinner
Date: Saturday, April 24, 2021 (Time TBA)


It's never too early to start planning for the 2021 Obama Dinner, which will be held on Saturday, April 24 (Time to be announced)! Yes, it will be virtual, because remember that we are still in the middle of a pandemic. Be a good neighbor and a good Democrat, and support your state Democratic Party while we all maintain social distancing and listen to science!
What can you do now?
The Obama Dinner is not only a way to support the Colorado Democratic Party, but to uplift local leaders who you believe should be recognized for all the work they do to elect Democrats! Click the button above to start nominating!
Colorado had incredible victories in 2020! Come join fellow Democrats to celebrate those accomplishments, while supporting the state Democratic Party so we can protect those victories in 2021 and 2022.
Get your tickets to the Obama Dinner and reserve your spot today!
---

Become a Citizen Lobbyist in 2021!


The 2021 legislative session is less than a month away, and it will convene on Wednesday, January 13, 2021. Be sure to mark it on your calendar and bookmark the general assembly website (click here to see)!
As a Dispatch reader, you are probably well aware of how the session works, but in case you need a refresher...
Colorado's 100-member General Assembly (35 Senators, 65 House Reps) meets for 120 days every year. During this time, members can introduce and pass legislation on any number of issues, like health care, criminal justice reform, environment and climate, job growth, education funding, and so much more!

Currently Democrats have the majority in both the Senate (20 members) and the House (41 members). The leading members of both caucuses during the 2021 session will be Senate President-designate Leroy Garcia, Senate Majority Leader-designate Steve Fenberg, House Speaker-designate Alec Garnett, and House Majority Leader-designate Daneya Esgar.
Our Democratic majorities need YOU to advocate for good pieces of legislation, and to help fight bad pieces of legislation Republicans will undoubtedly run this year (see: guns in schools, restricting reproductive freedom, anti-LGBTQ policies, etc).
How can you help?
Become a Citizen Lobbyist! The best democracies have their people engaged in the process, both for campaigns AND for governing! Whether it's listening to hearings, testifying remotely or in-person, or writing letters to the editors or opinion pieces, it all helps! Click here to learn about being a citizen lobbyist at every level of government!
We will be holding a training on Thursday, January 7, 2021 @ 6:00pm MT focused on how you can become a true blue citizen lobbyist! Click here or the button below to save your spot NOW!
---

All Eyes on Georgia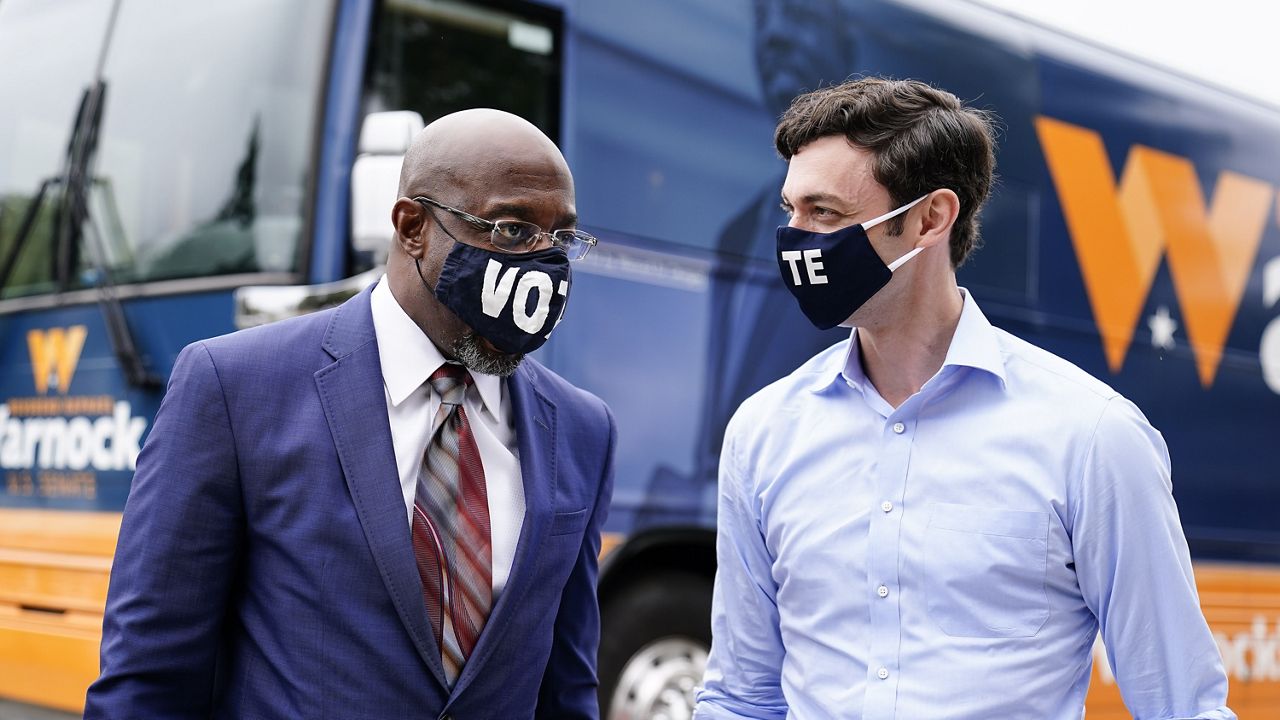 Democratic candidates Raphael Warnock and Jon Ossoff are headed to January 5, 2021 run-off elections!
How can we help??
It's all hands on deck, and the entire country will be watching Georgia! Here's immediate ways you can get involved to help Raphael Warnock and Jon Ossoff win!
Whoever wins these two seats could determine the course of Joe Biden's presidency. If the GOP wins, Mitch McConnell keeps his majority, and he'll have the power he needs to obstruct every policy idea Dems want to pass.
But, if Dems win these seats in Georgia? Legislation like a health care public option, voting rights protections, combating climate change, raising the minimum wage to $15, and so much more are possible!
But we have to win these two seats. What do you say?
---
Share the Dispatch
If you know someone interested in receiving our weekly newsletter, they can sign up here or they can visit our website at https://coloradodems.org/newsletters.