January 17, 2020
TOMORROW:
Join us for the 2020 Womxn's March!
ImageWe need your help to get as many new voters registered as possible during the Womxn's March tomorrow on Saturday, January 18.
We are looking for 120 volunteers, so ask your friends to join us too.
If you can help register voters or table that day, contact Tyler McDermott atThis email address is being protected from spambots. You need JavaScript enabled to view it..
Note that everyone needs to take voter registration training if they want to register voters. If you need to get trained, there is a training that will be held by webinar at 6:00PM tonight (Friday, January 17, 2020).
https://attendee.gotowebinar.com/rt/1917936809926228493
---
MONDAY, January 20:
Join us for Martin Luther King Jr. Day!

Colorado Democrats will be registering voters on Monday, January 20, Martin Luther King Jr. Day, and we need volunteers!
Want to be part of the change? EmailThis email address is being protected from spambots. You need JavaScript enabled to view it. to find out how you can volunteer!
---
Impeachment Trial Begins
Image(from left to right) Congressman Hakeem Jeffries (NY), Congresswoman Sylvia Garcia (TX), House Judiciary Chairman Jerry Nadler (NY), Speaker of the House Nancy Pelosi (CA), House Intelligence Chairman Adam Schiff (CA), Congresswoman Val Demmings (FL), Congresswoman Zoe Lofgren (CA), Congressman Jason Crow (CO)
Democrats deliver impeachment articles to begin Senate trial
From Politico
The House voted on Wednesday to send the articles of impeachment to the Senate and appoint the Democrats' seven-member team of managers who will prosecute President Donald Trump's impeachment trial.
The vote, which was largely along party lines, comes after Speaker Nancy Pelosi delayed transmitting the articles for nearly a month as she sought to pressure Senate Republicans to call in new witnesses against Trump.
"We are here today to cross a very important threshold in American history," Pelosi said in floor remarks just before the vote.
In her floor speech, the speaker noted how she resisted for months moving forward with impeachment despite building pressure within her caucus, declaring Trump "wasn't worth it."
But once the Ukraine scandal surfaced, in which Trump allegedly tried to aid his reelection campaign by pressuring the country's president to investigate Joe Biden, Pelosi said she could no longer resist moving ahead.
ImageJason Crow: Impeachment Manager Who Pressed to Launch Inquiry
From the New York Times
As a former Army Ranger who served in Iraq and Afghanistan, Representative Jason Crow, who flipped a Republican-held seat in 2018, has quickly emerged in the Democratic caucus as a leading voice on national security.
Drawing on those credentials and his experience as a litigator, Speaker Nancy Pelosi named the Colorado Democrat as an impeachment manager on Wednesday, selecting him as part of the team of lawmakers who will play a high-profile role prosecuting House Democrats' case against President Trump in the Senate trial.
Mr. Crow is a first-term lawmaker — one of only two among a seven-person manager team — and he does not serve on any of the committees that have been leading the impeachment inquiry. So his selection to play a high-profile role in the impeachment trial underscores the crucial role national security-minded freshmen have played in the House investigation.
ImageLev Parnas says Trump 'knew exactly what was going on' with Ukraine pressure campaign
From CNN
Indicted Rudy Giuliani associate Lev Parnas, a central figure in the White House's alleged Ukraine pressure campaign, said President Donald Trump "knew exactly what was going on" despite his repeated denials of wrongdoing.
"He was aware of all my movements. I wouldn't do anything without the consent of Rudy Giuliani, or the President," Parnas told MSNBC's Rachel Maddow on Wednesday night. "I have no intent, I have no reason, to speak to any of these officials."
Parnas asserted he was the one "on the ground" doing Trump and Giuliani's work, "and that's the secret that they're trying to keep."
"Why would President Zelensky's inner circle, or Minister Avakov, or all these people, or President Poroshenko, meet with me? Who am I? They were told to meet with me," he said.
---
And the Obama Dinner awards go to...
You nominated, and you voted! After receiving so many names and hundreds upon hundreds of votes for so many amazing Democrats, we are pleased to announce who will be honored at the 2020 Obama Dinner Awards!
Joe Salazar
Democrat of the Year
Director Tay Anderson
Rising Star Award
Congressman Joe Neguse
Rural Outreach Award
Omar Montgomery
Outreach Award
Jeeva Senthilnathan
Murphy Roberts Award
Wellington Webb
Lifetime Achievement Award
Volunteers of the Year
Kathy Ayala
Julia Bristor
Besty Daniel
Hashim Coates
Carol Cure
Chair's Award
Kevin Kuns
Chair's Award
Congratulations to these incredible Democrats for being recognized by their fellow Democrats all across our 64 counties! Make sure to buy your tickets to the 2020 Obama Dinner on Saturday, April 18, 2020! Click here or the button below to get your tickets or to buy a table!
BUY MY TICKET TO THE 2020 OBAMA DINNER!
Session is Underway

Attorney General Phil Weiser, Secretary of State Jena Griswold, and Treasurer Dave Young addressed Colorado General Assembly committees to discuss their departments' priorities.
The 2020 Legislative Session of the Colorado General Assembly isn't only a busy time for our state Senators and Representatives and Governor -- it's also a busy time for our Attorney General, Secretary of State, and Treasurer! The AG and SoS put out their agendas for 2020 -- take a look at these excerpts:
Attorney General Weiser:
A second primary focus of the Department is the opioid epidemic. Opioid addiction is destroying lives, families, and communities here in Colorado. At the Department, we are doing our part to hold bad actors accountable, and get help to those struggling with addiction and in need of treatment.
Currently, we are actively engaged in actions against pharmaceutical companies and executives whom we allege engaged in deceptive marketing and lied to consumers about the effects of opioids like Oxycontin. We will continue prosecuting the Purdue Pharma case and bring other suits as needed to hold accountable those who contributed to this crisis. And once we recover funds, whether through settlement or a litigated judgment, with our partners, we will work to support drug treatment, education and prevention, and recovery programs.
Click here to read more.
Secretary of State Griswold:
At a joint hearing before the Colorado House and Senate Committee on State, Veterans, and Military Affairs, Colorado Secretary of State Jena Griswold unveiled her legislative agenda for the 2020 Colorado General Assembly. The focal point this year will be continuing to preserve the integrity of Colorado's electoral process.
"From special interests trying to buy the outcomes of elections, to foreign nations launching sophisticated attacks, we must rise to the challenges of our times," said Secretary Griswold. "In 2020, we have an opportunity to lead, and ensure Colorado remains the national leader in elections and democracy. I look forward to working with the General Assembly in the coming months to pass this important legislative package."
Click here to read more.

The Colorado Senate convenes.
Democrats in the General Assembly are already hard at work for the people of Colorado! As the session progresses, we'll update you on critical pieces of legislation that tackle kitchen-table issues that hardworking Coloradans are thinking about. Here's a few good ones to keep an eye on:
HB20-1006 -- Early Childhood Mental Health Consultants HB20-1007 -- Diverse K-12 Educator Workforce Report HB20-1008 -- Healthcare Cost-sharing Consumer Protections HB20-1086 -- Insurance Coverage of Mental Health Wellness Exam SB20-002 -- Rural Economic Development Initiative Grant Program SB20-007 -- Treatment of Opioid and Other Substance Use Disorders
A Date with History!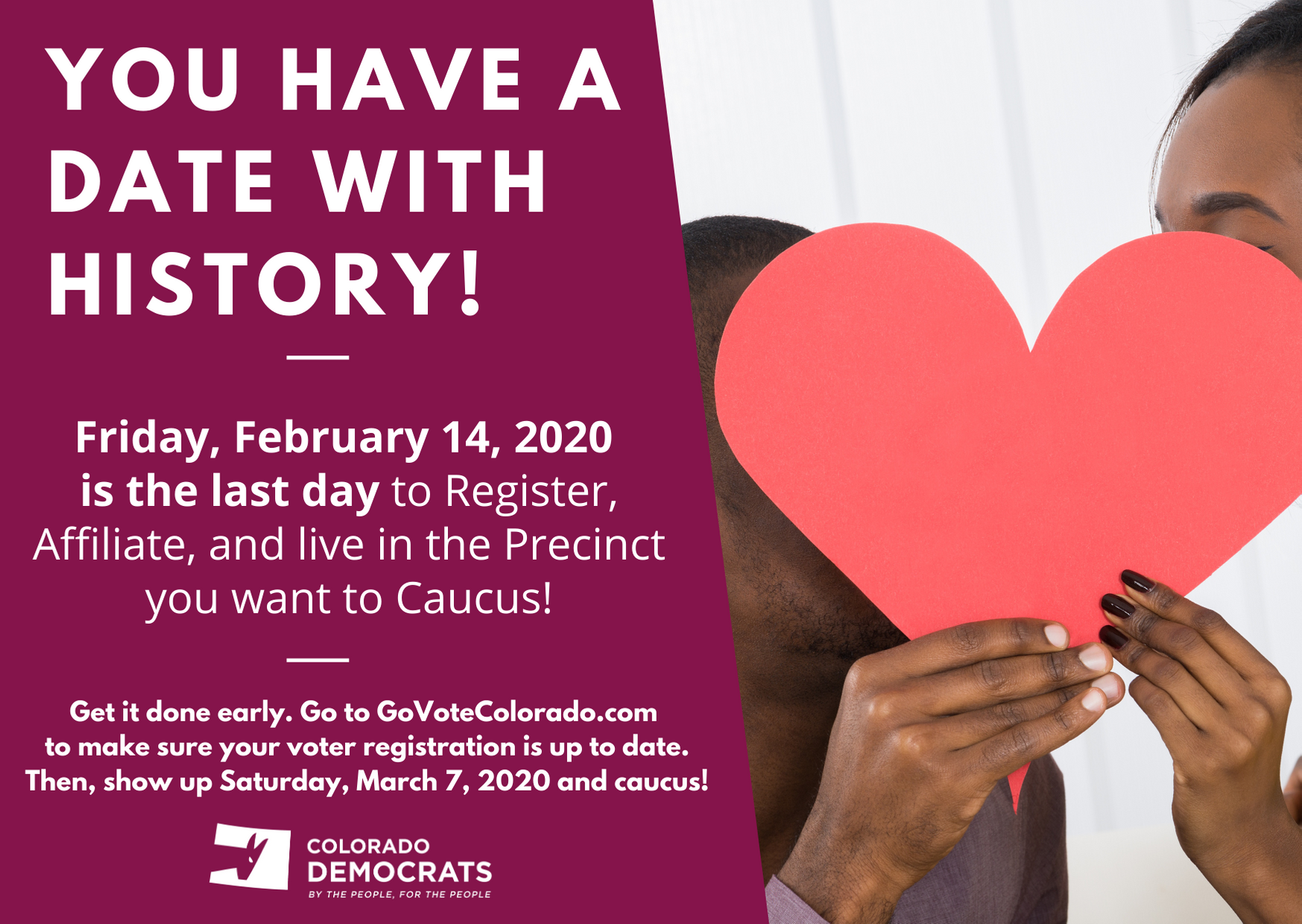 Heads up, folks! Friday, February 14, 2020 is not only Valentine's Day, but it's also the last day to register, affiliate as a Democrat, and live in the precinct you want to caucus in! Help us spread the word by sharing this graphic on social media!
Click here to share what we posted already!
First Anti-Cory Gardner Ad of 2020...
Comes from a GOP Group??

Conservative group 'Project Lincoln' targets Sen. Gardner in ad, calling him 'Trump's servant'
From KREX
Senator Cory Gardner is the target of a recent ad, paid for by a group of conservatives who are unhappy with the direction of the Republican Party's reluctance to hold President Donald Trump accountable for his actions.
Cory Gardner, "do your job", is the theme of the ad put out by Project Lincoln.
The ad points out that Gardner is losing in many polls to Democratic contenders for his senate seat. The video, released on Twitter Monday morning says the only thing Gardner will fight for is President Donald Trump.
Click here to read more.
APPLY NOW: Be a National Delegate to the 2020 Democratic National Convention!

Rollcall being taken at the 2008 DNC in Denver, CO!
Want to represent Colorado and witness history firsthand as the Democratic grassroots select their nominee for President? Want to hear awesome speakers and meet incredible Democrats from all across the country? Then you need to apply to be a delegate at the 2020 Democratic National Convention that's happening in Milwaukee, WI on the week of July 13, 2020. Click here to check out the application!
Join the High Fivers Club!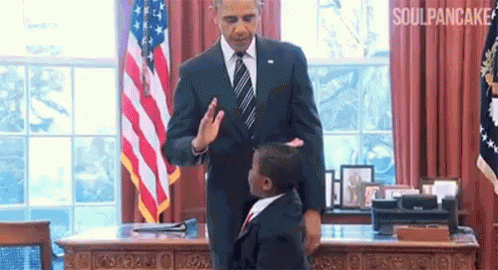 "What's the High Fivers Club", you ask? It started with a simple idea: There are nearly 1.2 million registered Democrats in Colorado -- what if every single one of them gave just $5 a month to the Colorado Democratic Party (CDP)?
Answer: The CDP would be the best-funded state party in the country -- with zero dollars from corporate PACs and plenty for flipping red seats to blue!
If you haven't given to the CDP yet, here's a few simple reasons why we're asking you today:
The CDP is the central base that supports volunteer recruitment, training candidates, and helping county parties win elections. While the Democratic National Committee provides some limited funds, the reality is it is up to us to raise our own money so we can support Democratic candidates running for office in Colorado. We knock on doors and meet with voters to talk about voting Democratic even before we know who our nominees are! As part of the High Fivers Club, you can help us get supplies for volunteers so we can knock on 50,000 more doors before we know our nominee. Once we have our nominee, we'll use what we've learned about voters to help them jump-start their Get Out the Voter efforts and stay toe-to-toe with Donald Trump and the Republicans.
Click the logo below to join High Fivers Club!
Now Hiring: Finance/Development Director and DSCF Executive Director
Image The Colorado Democratic Party is looking for a talented individual to apply for our finance/development director position! Click here to see the job description!

The Democratic Senate Campaign Fund -- the campaign arm of the CDP focused on defending our state Senate majority -- is hiring a new Executive Director! Click here to see the job description!
Volunteer of the Week: Joy C.

Meet Joy -- one of our all-star volunteers who runs the front desk at CDP HQ! Joy took a break from helping get us ready to register voters at the Womxn's March and MLK day to explain why she volunteers with the CDP.
Why do you volunteer?
I have 5 grandchildren -- 4 of them are girls so I'm very concerned with protecting their right to choose on healthcare decisions. I'm concerned for the world my grandchildren will have to navigate.
What would you say to someone who has thought of volunteering, but hasn't taken that first step?
People who think of volunteering often think of a big time commitment, but the reality is that every little bit helps! Have only an hour a month? Come sign postcards or stamp voter registration forms! There's always something to do here at the party and every little bit helps.
On The Road!

CDP Executive Director Halisi Vinson stopped by the HD4 meeting to present on caucus and the Delegate Selection Plan. Communications Director David Pourshoushtari attended the HD3 meeting and Outreach Coordinator Raul Guevara attended the HD40 and HD8 meetings to also present on caucus and the Delegate Selection Plan!
Share the Dispatch
If you know someone interested in receiving our weekly newsletter, they can sign up here!