TONIGHT:
Joint Virtual Town Hall @ 7:00PM


TONIGHT (Wednesday, June 9) @ 7:00PM, the Colorado Democrats with Disabilities and the Colorado Democratic Education Initiative are proud to present "Disabilities and Possibilities".
This will be a collaborative virtual Town Hall that will explore the relationship between the lives of People with Disabilities and equity in the Colorado educational system.
We are excited to have with us representatives from various elected and appointed positions to contribute to the conversation, as well as several community members who will share their personal experiences. Moderated by Colorado Democrats Chair, Morgan Carroll. Click here or the button below to sign up!
---

Sine Die!


Yesterday, the Colorado general assembly adjourned sine die, bringing to a close one of the most consequential and productive legislative sessions in recent memory. Amidst a global pandemic, Democrats in the State House and Senate took the lead on Colorado's recovery on a number of fronts. This included legislation like:
Combine these efforts with the package of gun safety reform passed in the wake of the Boulder shooting, and it's clear that Democrats in the state legislature stepped up for Colorado.
Meanwhile, on the Republicans' side of the things...
Yep. You read that right. And these headlines don't even include Republicans' legislative efforts to attack voting rights or block a public healthcare option.
Folks, this is why we need Dems in charge.
---

The American Rescue Plan
How is it helping folks?


Did you file for unemployment in Colorado this year? You may be eligible for free health insurance.
Denverite
Then, during the pandemic, business slowed and Peterson got word that she would be laid off.
While losing her job has been devastating in a lot of ways, it also delivered a silver lining. A new allowance written into the American Rescue Plan, which President Joe Biden signed into law in March, opened a pathway for her back into a doctor's care.
The law, which authorized a third round of stimulus checks and child tax credits, also offers free or low-cost health insurance for people who filed for unemployment in 2021 and who live in states with an Obamacare marketplace. Colorado is one of those states. Because Peterson received unemployment this year, she's one of the hundreds of thousands of people in this state who qualify for the new program. The American Rescue Plan also widened access to the marketplace for people who did not file for unemployment this year.
Remember -- Colorado Republicans like Lauren Boebert, Ken Buck, and Doug Lamborn all voted 'No' to helping struggling Colorado families.
Meanwhile, all of Colorado's Democratic members of the Congressional delegation voted 'Yes'!
But how else does the American Rescue Plan specifically help Coloradans, you ask? Click the link to find out!
---

Opportunities with the Colorado Dems


Join Senator Bennet on Monday, June 14
for a Grassroots Campaign Kickoff!
Michael Bennet is up for re-election this cycle in a race that could decide control of the U.S. Senate.
On June 14th, Michael will hold a virtual Grassroots Campaign Kickoff, his first grassroots event of the cycle. Michael is the only Senator running for re-election refusing to take corporate PAC and federal lobbyist donations, which means he's counting on grassroots supporters like us to raise the resources he needs to win.
Will you buy a ticket to support Michael for just $25 today?
RSVP using this link: http://www.michaelbennet.com/kickoff
Help Spread the Word:
---
March with us in the Denver Juneteenth Parade!
The Juneteenth Parade kicks off the Juneteenth Music Celebration on the street in Five Points on Saturday June 19, 2021. Staging begins 9:00am at Manual High School on 26th Avenue & Williams St. 80207.
We will meet at the SE corner of the parking lot! Mark your calendar to join us today!
What is Juneteenth?
Juneteenth celebrates the day African Americans in Texas learned of their freedom two years after the signing of the Emancipation Proclamation. Celebrated in cities across the country, Denver is home to the Juneteenth Music Festival, a dynamic community event which annually attracts 50,000 people. In 2021, Juneteenth was recognized as a commemorative holiday by Denver City Council.
---
Help Fight Another Republican Sham Recall!
Colorado Republicans are at it again.
Remember in 2019 when Colorado Republicans launched a series of sham recalls because they can't win elections fair and square? Well, they're at it again, and this time they're targeting Democratic members of the Westminster City Council. Specifically, they're targeting Councilman Jon Voelz (pictured above).
How Can You Help?
Go to the Defend Westminster page and chip in to help with the recall defense efforts to stop this attempt to undo the will of the voters in its tracks!
---
CANDIDATE BOOT CAMP!
Saturday, June 26, and Sunday, June 27
The Colorado Democratic Party will be hosting its second session of its brand new Candidate Boot Camp series for registered Democrats! It will be held on Saturday, June 26, and Sunday, June 27, and it will be focused on bringing candidates, potential candidates, campaign workers, and activists together to learn everything one would need to know to run for office!
Who Should Attend?
If you're a candidate, a campaign manager, a campaign staffer, a campaign volunteer, a precinct organizer, a county party officer, an active Democrat in your community, or a Democrat who has thought about running for office before, this training is for you!
What Will You Be Learning?
From fundraising to field, from messaging to managing a candidate, from time management to campaign timelines, this training will prepare anyone seeking office or seeking to help elect Democrats at any level to take on any race in any corner of the state!
Sounds Awesome! How do I join?
Click here or the button below to sign up, and show up!
Even in the year 2021, people in Colorado and across the country face unfair obstacles and treatment based upon their sexual orientation or their gender identity. Listen as we discuss in this edition of Colorado Conversations about the struggles for LGBTQ Equality and Gender Equity, what our elected officials are doing about it, and how you can help make a difference!
Sign up to be part of the conversation on Monday, June 28, 2021 @ 6:00pm MT by clicking here or the button below!
---

Initiative and County Party News!


Support for Democratic School Board Candidates
Celebrating 20 Years of Democrats' Education Initiative
By CoDEI Secretary Evie Hudak, June 2021
The Democratic Education Initiative of the Colorado Democratic Party (CoDEI) will celebrate its 20th anniversary at its monthly program meeting on June 18 at 1:30 p.m. (Contact the CoDEI at This email address is being protected from spambots. You need JavaScript enabled to view it. for the Zoom link). In addition to our annual legislative wrap up, several of the people who helped form the group have been invited to speak and celebrate with us. Please join us!
In June 2001, the CoDEI was just an informal group that called itself the Democratic Education Summit (DES). Evie Hudak (CD 2) and Gully Stanford (CD1) created the group after she and Jared Polis (At Large) were elected to the State Board of Education (SBE). Their goal was to give the Democrats a greater voice on the SBE than they had been able to have for many years. With the Governor and the State House of Representatives being majority Republican, the DES sought to organize Democrats to reclaim the party as the one that truly supports public education. In September 2003, the DES made a proposal to the State Democratic Party to become an initiative, and it was approved.
Since becoming an initiative, the CoDEI has done a variety of things to give the Colorado Democratic Party more visibility on public education and expand its education expertise. We have consulted with the State Platform Committee on the CoDEI Principles for Public Education in Colorado. We have worked to recruit, advise, and support Democratic candidates for school boards, the State Board of Education, CU Board of Regents, and the State Legislature. We have informed the party's policy on candidates running for non-partisan races such as school boards, so that Democrats in these races can have more support from the party. Occasionally we submit resolutions for caucus or approval by the State Central Committee on current issues of vital concern in public education.
The CoDEI holds monthly program meetings during the school year that provide a forum for Democrats to get information about educational issues from members, experts, and Democratic elected officials. These meetings are held on the 3rd Friday of the month via Zoom. We hope you will join us in June to celebrate the end of another good legislative session for education Democrats, and our 20th Anniversary!
---
The Stonewall Democrats of Colorado will hold their next meeting on June 17th at 6:30PM.
If you would like to get notifications about meetings, join Stonewall!
Upcoming Pride Events
Pride Luncheon
Hosted by Rep. Joe Neguse & the Stonewall Democrats of Colorado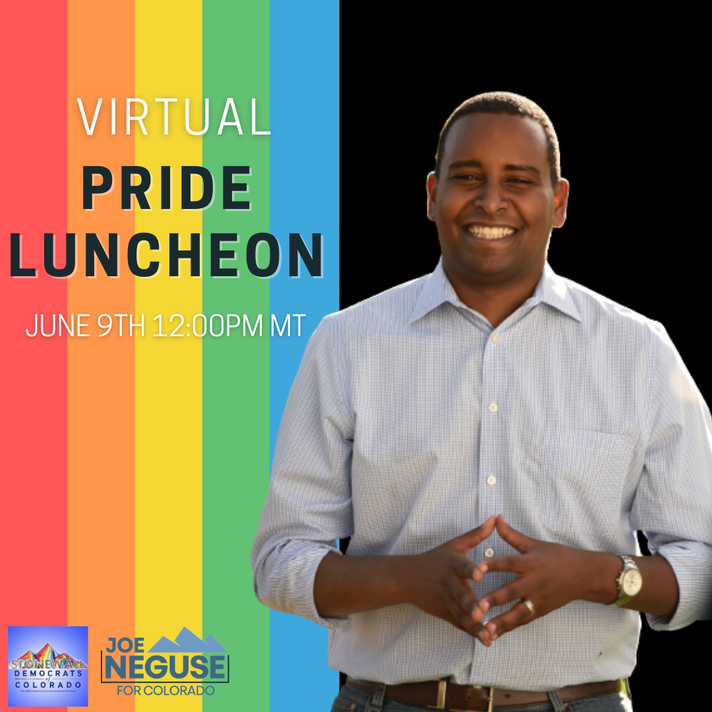 Date– June 9th
Time– 12:00 to 1:00pm MT
Host
Congressman Joe Neguse
Co-host / MC
Stonewall Democrats of Colorado
Chair Jarrod Munger
Panelists
Congressman David Cicilline
State Senator Sonya Jaquez Lewis
State Rep. Leslie Herod
State Rep. Brianna Titone
Mayor Jamie Harkins
Mayor Pro Tem Guyleen Castriotta
Denver PrideFest 2021
Date– June 26-27
Location– Virtual & In-Person Events
The 2021 Coors Light Virtual Denver Pride Parade will be virtual this
year so check out the website above for more information and tickets.
---
Join the Park County Dems on June 19!
Join the Park County Dems on Saturday, June 19 for Bailey Day! The Park County Dems will have a booth at the festival until 4:00PM, and welcome all Dems to come and visit!
---
Join the Arapahoe County Dems for
their Summer Kickoff on June 24!
The Arapahoe County Democratic Party is gearing up for the 2021 municipal election cycle and beginning the groundwork for 2022. Join them on Thursday, June 24th @ 6:30PM for their Summer Kick Off Fundraiser. It's a great evening of programming that will inspire and inform while supporting their efforts in Arapahoe County!
---
CD4 Dems BBQ! Saturday, June 26
---

Volunteer of the Week


For Volunteer of the Week, we're highlighting Colin from Denver County! We checked in with Colin to learn a little bit about him and why he volunteers for Democratic causes!
Ever since I volunteered as a canvasser for Obama's 2008 campaign, when I was 12 years old, I have wanted to become involved in politics. When the opportunity to volunteer on the state level presented itself, I jumped at the opportunity. When I am not reading copious amounts of material in school, I am working on creating a sustainable internship program with Colorado democrats in hopes of finding like-minded individuals that are willing to donate their time for this party.
I love engaging in the grassroots level to effect meaningful change, as all politics is local!
Do you want to volunteer? Reach out to our volunteer coordinator Karin Asensio at This email address is being protected from spambots. You need JavaScript enabled to view it., and see how YOU CAN GET INVOLVED!
---

#DemsDeliver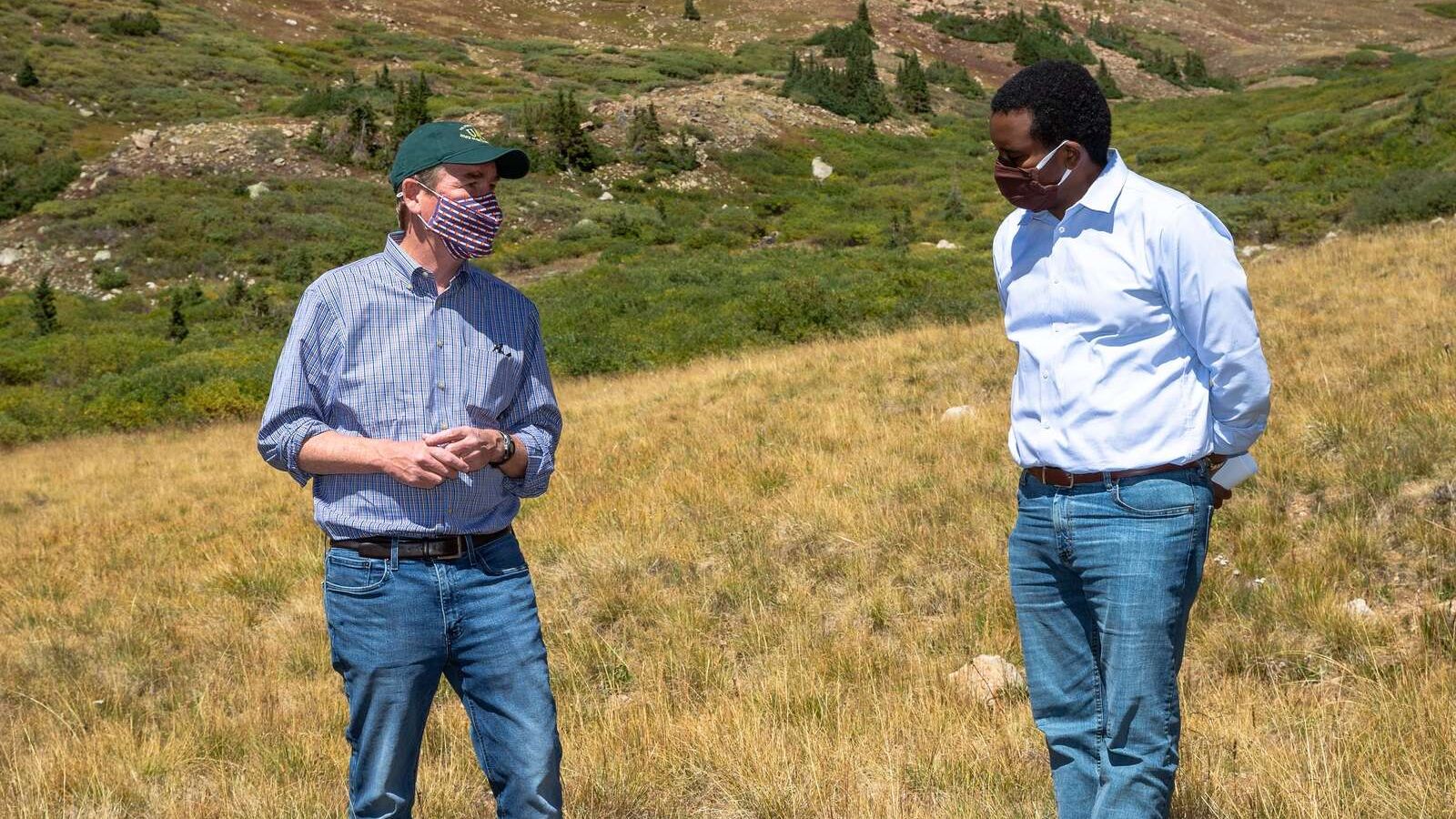 Sen. Michael Bennet And Rep. Joe Neguse Have A Bill To Benefit Ski Resorts And The Forests They're On
CPR News
There's a bipartisan effort underway in Congress to dedicate some of the money generated by the ski industry on public lands in the forests where resorts are located.
Democratic Sen. Michael Bennet and Republican Sen. John Barrasso of Wyoming have introduced the Ski Hill Resources for Economic Development Act, otherwise known as the SHRED Act.
...
Democratic Rep. Joe Neguse is now one of the leaders in the House working to get the SHRED Act passed. He's joined by Democratic Rep. Ann McLande Kuster of New Hampshire, who was co-chair of Congressional Ski and Snowboard Caucus with Tipton, and GOP Reps. John Curtis of Utah and Doug LaMalfa of California. Neguse, Curtis and Laalfa also work together in the bipartisan Wildfire Caucus.
---
Kamalanomics: Vice President Harris Outlines Her Vision Of Inclusive Entrepreneurship
Forbes
The pandemic has exposed the flaws and the fissures in our economy. One in three small businesses have closed. Nearly two million women have been forced out of the workforce. And millions of families have struggled to buy groceries and cover rent.
In this moment, more than repair, we must reimagine. And after providing $60 billion in relief to small businesses, we must work to broaden access to capital and remove other barriers to success for entrepreneurs across the country.
---
Colorado Democrats' big health care bill is headed to the governor's desk to be signed into law
Colorado Sun
The Colorado legislature on Monday night sent a sweeping bill intended to drive down health care costs to Gov. Jared Polis' desk, achieving an elusive goal for Democrats and launching the state into an experiment that could provide a roadmap for the rest of the country.
House Bill 1232 passed the General Assembly without the support of a single Republican in the House or Senate. Additionally, a handful of Democrats defected to vote against the measure, questioning its effectiveness and concerned about its effects on the health care industry.
---
Key House Oversight panel to review administration's efforts to care for thousands of migrant children detained at U.S. border
A key House Oversight panel, led by U.S. Rep. Diana DeGette (D-CO), will hold a hearing Wednesday to ensure the Biden administration is doing everything it can, and has all the resources it needs, to care for thousands of undocumented migrant children who were detained at the U.S. southern border.
The hearing, which will be held Wednesday, June 8, at 11:30 a.m. EDT, comes as Vice President Harris meets with leaders in Central America to discuss possible long-term solutions to stem the surge of migrants seeking to enter the U.S.; and on the heels of an interagency task force report the Biden administration released today that found at least 3,913 children were separated from their parents at the southern border under the Trump administration.
---
Rep. Jason Crow 'not ready to let Republicans off hook' on Jan. 6 insurrection
MSNBC
The Jan. 6 insurrection probe being blocked by the GOP is addressed by Rep. Jason Crow (D-Colorado), who tells Joy Reid, 'I'm not ready yet to let the Republicans off the hook here,' as House Democrats explore more options.
---
Perlmutter attends Lakewood vaccine event
Arvada Press
Perlmutter can often be found in his district, holding regular community meetings with constituents. This day he was underscoring the point that federal legislation his party pushed through helped make events like the vaccination event possible.
"They've (Stride) really got it down to an art," he says. "They've got the van that they were able to buy with funds that we provided with the American Rescue Plan and the CARES Act, and they've been able to bring these shots to where the people are."
---
Republicans who embraced Trump's big lie run to become election officials
The Guardian
Jena Griswold, Colorado's top election official and the chair of the Democratic association of secretaries of state was blunt in her assessment of the four candidates. She said it was concerning many of them were running in swing states where there were attempts to overturn the 2020 election.
"People who spread lies about our elections to try to help their own political parties are not fit to protect elections," she said in an interview. "They should not be elected to these offices."
---
Sen. Hickenlooper introduces 4 bills aimed at helping small businesses across Colorado
KRDO
U.S. Senator John Hickenlooper (D-Colorado), a member of the Senate Small Business Committee, says he's passionate about bringing change for minority entrepreneurs, so he's helping introduce new legislation to help small businesses across the state.
---
Coloradans receiving scam calls telling them they've won Comeback Cash drawings
The Denver Channel
"Your average resident of Colorado, especially those who are targeted, are not always fully aware of these potential scams," Clarke said.
Colorado Attorney General Phil Weiser says his office has already received reports about this scam.
"We heard about this happening in Ohio, which had one of these programs, so we knew it was coming to Colorado, too," Weiser said. "They're going to tell you you've won the lottery. 'Just give me your bank account number so we can wire you the money or give me a credit card because we need to process a payment to give you the money.'"
---
UNDER THE RADAR | Colorado State Treasurer Dave Young prefers to stay out of the limelight
Colorado Politics
Compared to the other statewide elected officials — governor, secretary of state and attorney general and the University of Colorado at-large regent — the number of times State Treasurer Dave Young's name comes up on a Google search doesn't add up to much.
The former Greeley math teacher, Democratic state representative and member of the legislature's Joint Budget Committee doesn't count success in media hits, unlike the others elected from border to border.
---

GOP Watch


Marjorie Taylor Greene Praises Boebert, Hypes Future CO Visit With Gaetz
Colorado Times Recorder
In an appearance on a Denver talk radio station last Monday, Congresswoman Marjorie Taylor Greene (R-GA) described a "civil war" within the GOP congressional caucus between establishment and Trump Republicans and identified Colorado's own U.S. Rep. Lauren Boebert (R-CO) as one of her allies in the struggle for control of the party.
---

CDP On the Road!


Team CDP was thrilled to hit the road for our first team outing since the pandemic started, and we were so lucky to meet Brad and Jenn, the founders of Buff City Soap! They started their small business in Memphis, and now have stores all over the country, including here in Colorado!
Not only were we able to learn about their story as small business owners who take care of their employees with competitive pay, healthcare, and good benefits, but we got to learn how to make soap too! Thanks Brad and Jenn for taking the time to hang out with us. :)
Check out their website at https://www.buffcitysoap.com/
---

The Funnies!


---
Share the Dispatch
If you know someone interested in receiving our weekly newsletter, they can sign up here or they can visit our website at https://coloradodems.org/newsletters.