Voting and Running Local!
Have you thought about running for office? While some offices like Congress or U.S. Senate seem to get all the media attention, do you know that your most local offices can have the biggest impact on your community?
It's true! Local. Politics. Matter. Whether it is school board, city council, or any other municipal position, your community needs honest public servants with integrity, and we're asking you to:
consider running for your local office, or:

adopt a local campaign!
WANT TO RUN FOR OFFICE?
Great! First thing you will want to do is reach out to your local county Democratic party (which you can view here) and ask them about offices that need candidates!
WANT TO ADOPT A LOCAL CAMPAIGN?
Fantastic! Reach out to your local county Democratic Party to hear about your local races that need your help!
---

Attention Candidates!


Create a Free Candidate Account with the
National Democratic Training Committee!
Whether you're a candidate or a campaign staffer, the National Democratic Training Committee has a library of free trainings and resources for you to look through.
Go to https://traindemocrats.org/ and take a look at what they have to offer!
CDP Resources: Tyler's Office
Hours and Candidate Kits!
Tyler McDermott, our State Field and Training Director, now has weekly office hours for candidates! Have questions about anything that a candidate may want to know? Ask Tyler!
When? Every Wednesday, 12:00-1:00pm MT
How? Go to this link during the Office Hour times: https://us06web.zoom.us/j/83289629992#success
The Colorado Democratic Party has candidate kits that can help those running for office at every level get started!
Reach out to Tyler at This email address is being protected from spambots. You need JavaScript enabled to view it. and he can get you set up!
---

The American Rescue Plan
How is it helping folks?


Otero County businesses receive over $621,000 in Restaurant Revitalization Fund grants
La Junta Tribune-Democrat
Nine Otero County restaurants received nearly $622,000 in federal COVID-19 relief funding from Restaurant Revitalization Fund grants.
The Restaurant Revitalization Fund was designed by U.S. Congress as part of this year's American Rescue Plan Act. About $28.6 billion worth of RRF grants were awarded to restaurants, bars and food trucks throughout the nation. Nearly $500 million was awarded to Colorado alone, according to Sen. John Hickenlooper.
Remember -- Colorado Republicans like Lauren Boebert, Ken Buck, and Doug Lamborn all voted 'No' to helping Colorado families.
Meanwhile, all of Colorado's Democratic members of the Congressional delegation voted 'Yes'!
But how else does the American Rescue Plan specifically help Coloradans, you ask? Click the link to find out!
---

Opportunities with Colorado Dems


SIGN UP FOR OUR NEXT COLORADO CONVERSATION!
Thursday, August 5, 2021 @ 6:00pm MT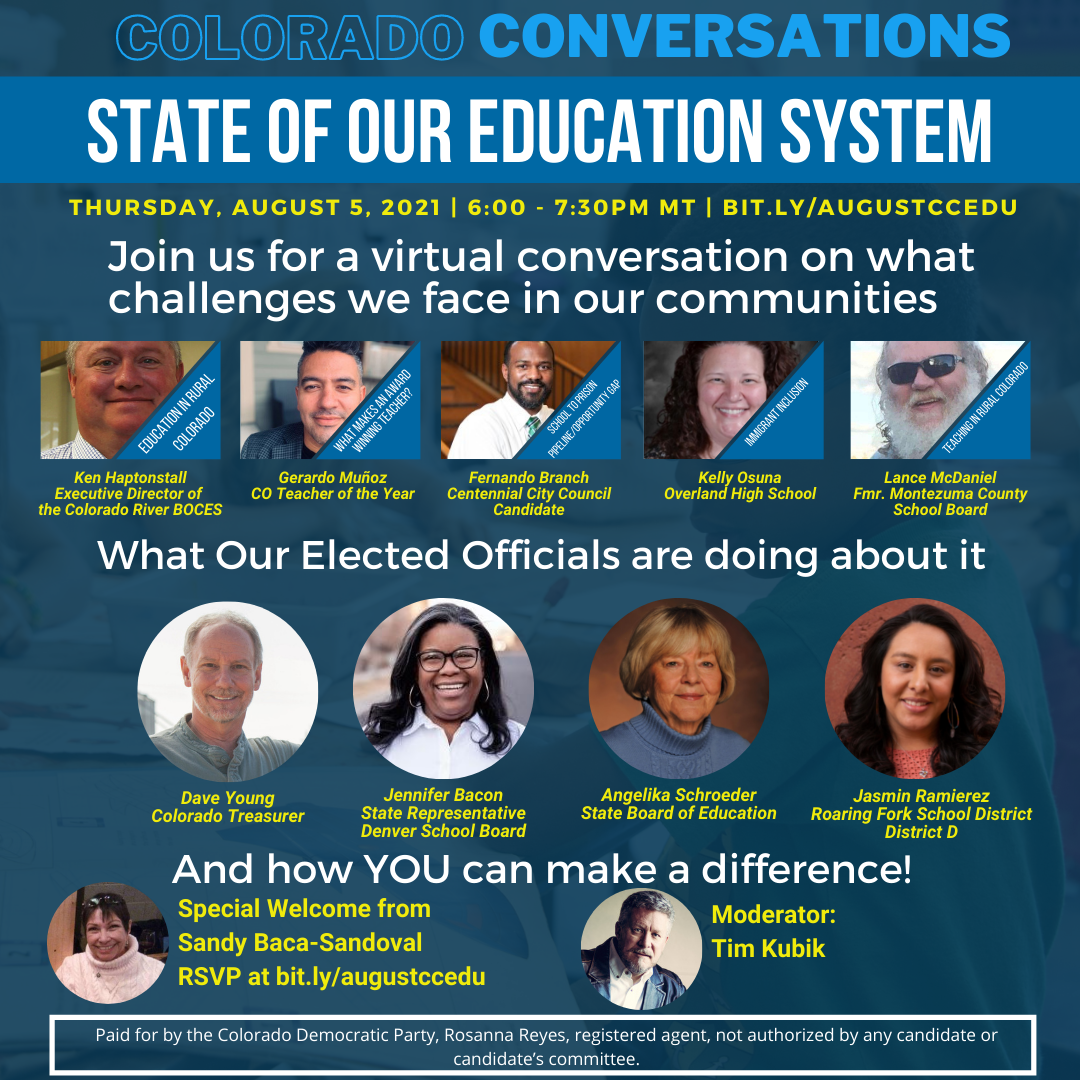 Investing in our education system is investing in our country's future. Education is the foundation for our country's kids, and it's the great equalizer for those who want to start a career or go further in their current career. Yet, we see today massive inequality and massive inequity in our education system at every level. In this Colorado Conversations virtual town hall, we bring together educators, education experts, and elected officials to talk about what can be done, what is being done, and what still needs to be done!
Climate change is an existential threat to our lives, our planet, and our future. Here in Colorado, as a state that prides itself in its clean water and public lands, we feel the effects of climate change harder through devastating floods and fires. In this Colorado Conversations virtual town hall, we bring together community members, experts, and elected officials to focus on the actions we must take and continue to take to combat climate change, and protect our water and environment.
ABOUT:
The Colorado Democratic Party has launched its virtual town hall tour for 2021, with this year's theme being Colorado Conversations!
Each of the 14 town halls are free admission, and will feature expert panelists and elected officials to discuss issues impacting our communities, what elected officials are doing about them, and how you can make a difference!
---
Add Your Recipe to the Colorado Dems Cookbook!
Hi friends! We're putting together a Colorado Dems Cookbook filled with recipes from Colorado Dems all across the state, and we're asking you to contribute to it!
Do you have a famous dish or cocktail that you love to share at parties? Maybe an old family recipe you'd generously be willing to share? We want to hear from *you*!
Please fill out the form below, and email a photo of yourself and a photo of your dish to This email address is being protected from spambots. You need JavaScript enabled to view it.!
SAVE THE DATE:
Grassroots Reunion + Fundraiser on Thursday, Sept. 9
We are excited to announce that we will be back together in person for a grassroots reunion and fundraiser on Thursday, September 9th at ReelWorks (formerly EXDO) in Denver!
This event will be a great way to see people from across the state that you have not seen in a while. Click here to RSVP!
We ask that only those who have been vaccinated attend, in accordance with the most recent CDC guidelines. The event will be indoors and outdoors, so come join us for some food, drink and lots of fun!
---
Montrose Dems BBQ - Saturday, August 28!
The Montrose Dems are hosting a BBQ a month from today, and you're invited! Keep an eye out for RSVP details at https://montrosedemocrats.org/bbq/!
---
Bring your beach gear and join the Stonewall Democrats for Aurora Pride at the Aurora Reservoir
Saturday August 7th from 12pm to 7pm
Buy tickets online: https://www.aurorapride.com/
If you would like to volunteer for the event, please email This email address is being protected from spambots. You need JavaScript enabled to view it.
---

#DemsDeliver


Gov. Jared Polis Visits New Visitor Center At The Pikes Peak Summit
CBS Denver
Gov. Jared Polis made the 14,115-foot trip to the top of Pikes Peak for the grand opening of the new visitor center. The center has been open for a few weeks but the official grand opening was on Monday.
---
Colorado's housing crisis touches every inch of the state. Lawmakers hope $400 million will help.
Colorado Newsline
Colorado's affordable housing crisis touches every inch of the state, whether it's rising rents coupled with stagnant wages, limited available affordable units, or unattainable building costs.
State lawmakers this session set aside $400 million in federal coronavirus relief funds to try to alleviate the growing housing pressure seen across the state. The challenge now will be coming up with solutions that address the unique challenges urban, mountain and rural communities are facing.
---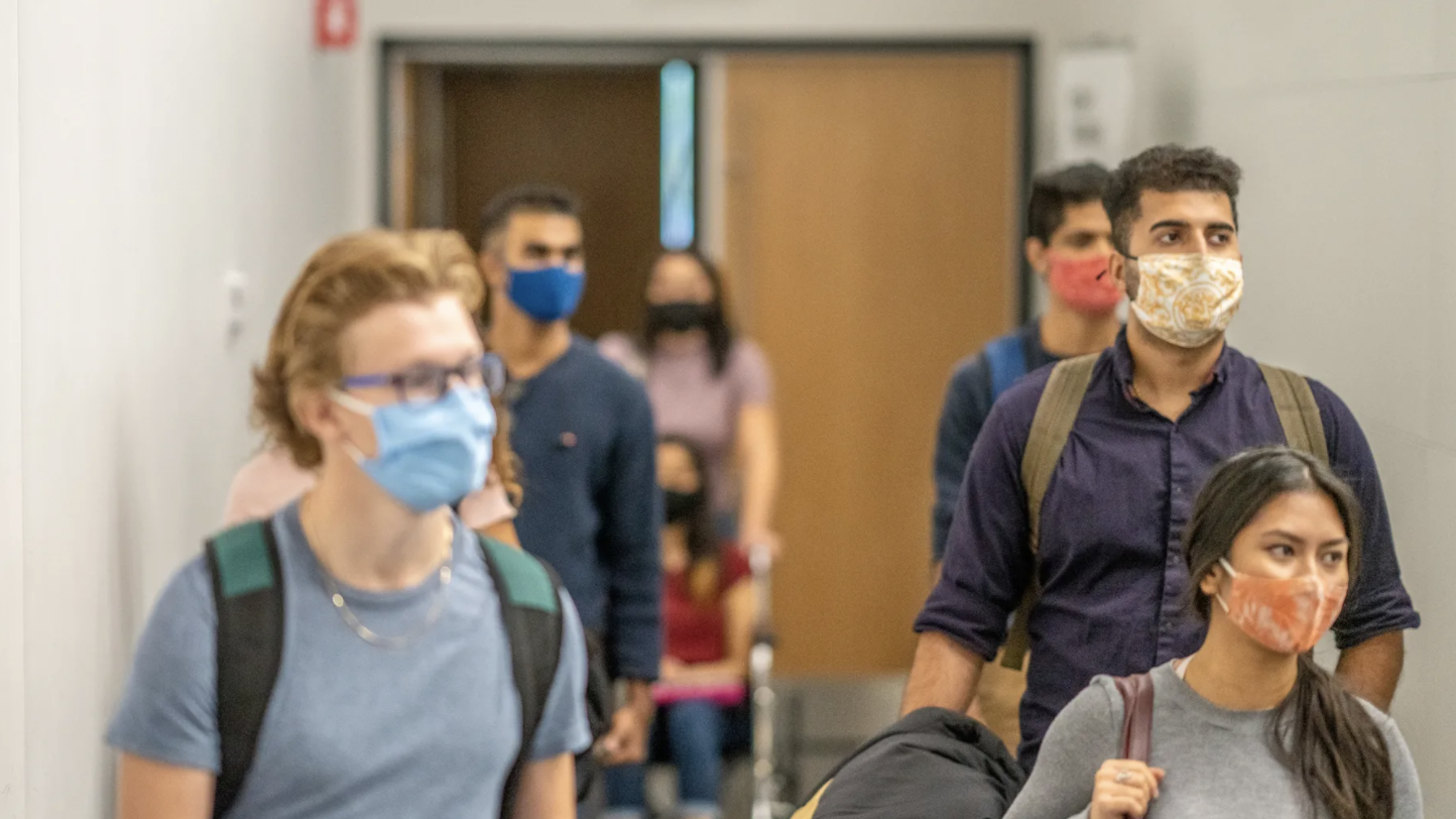 Colorado will allow four-year colleges to grant associates degrees to those who dropped out. Will more students go back for a bachelor's?
Chalkbeat Colorado
Over 13,000 Colorado residents have earned more than 70 college credits at four-year state universities in the past five years but stopped short of a degree, according to the Colorado Department of Higher Education.
Now, a new Colorado law lets universities award those students with an associate's degree.
---
"We need to provide a path forward for clarity": Interior Secretary Deb Haaland visits new Bureau of Land Management HQ in Grand Junction
The Associated Press
Interior Secretary Deb Haaland on Friday paid her first visit to the new Colorado headquarters of her department's Bureau of Land Management after its relocation from the nation's capital by the Trump administration sparked criticism that the move was intended to gut the agency that oversees vast tracts of public lands in the West.
---
Republicans face long odds against Colorado's Michael Bennet
E&E News
Colorado is shedding its purple state label, and Democratic Sen. Michael Bennet is likely to reap the rewards in next year's election.
Though Election Day is more than 15 months away, Bennet has no major opponent. Top forecasters don't even consider the race competitive, in a shift from other recent statewide contests.
---
One-third of states have passed restrictive voting laws this year
The Hill
"Republican elected officials do not like the results of 2020 and now they're trying to change the rules of future elections," Colorado Secretary of State Jena Griswold (D) said in an interview. "In the middle of a pandemic, we had the securest election in America's history with record turnout of both Democrats and Republicans. So elections work."
---
Rep. Jason Crow's Push To Secure Visas For Afghan Translators Advances As The US Prepares To Leave The Country
CPR News
As the U.S. draws down its forces in Afghanistan, Colorado Rep. Jason Crow has been worrying about the fate of the Afghans who worked with American troops.
---
Extreme weather demands climate action
Alamosa Valley Courier
Against that backdrop, Colorado U.S. Senator Michael Bennet, Zane Kessler, Director of Governmental Relations with the Colorado River Water Conservation District stationed out of Glenwood Springs, and Colorado U.S. Representative Joe Neguse representing Larimer County -- including the Poudre Canyon -- were joined by elected officials from Nevada, Connecticut, Minnesota, Oregon, Illinois and Virginia, each member of Congress accompanied by a constituent who had experienced firsthand the devastating effects of extreme weather caused by climate change.
---

GOP Watch


Doug Lamborn Spreads COVID Conspiracies, Refuses to Recommend Vaccine
Colorado Times Recorder
In a radio interview last Thursday, Colorado Congressman Doug Lamborn pushed an unfounded conspiracy theory as to the origin of the COVID-19 virus, falsely accused Democrats and the top U.S. infectious disease expert of complicity in obstructing investigations, and misrepresented international virological research.
---

Volunteer of the Week


For this week's Volunteer of the Week, we say hi to Marda, an active volunteer in Larimer County who spends her free time helping out the Larimer County Dems!
Working together to create the change we want to see in our country for ourselves, our children, and our children's children is at the core of my volunteerism. I draw upon my core values of gratitude and a willingness to work diligently for the collective good in order to get the job done. My philosophy has always been, if you want change, then work with those that are the policy makers or help our future policy makers get elected at the local, state, and federal level is the most effective way to be involved. It is my honor to volunteer my time with the Larimer County Democratic Party so that we can continue to align our county with the state and federal Democratic platform.
Want to volunteer and help elect Democrats across Colorado? Click the button below to join our talent bank, and we'll get you plugged in!
---

The Funnies



Sign Up for ¡Adelante!


Adelante, is our bilingual Spanish newsletter that will be sent out once a month with content centered around policies that impact the Latina/o/x community. We also will be spotlighting community members who are doing their best to empower the community, either through their work or advocacy efforts. We encourage you to engage with our content to support the efforts being made statewide and to learn something new about our Latina/o/x population here in Colorado.
Adelante es nuestro boletín bilingüe en español que se enviará una vez al mes con contenido centrado en políticas que impactan a la comunidad latina / o / x. También destacaremos a los miembros de la comunidad que están haciendo todo lo posible para empoderar a la comunidad, ya sea a través de su trabajo o esfuerzos de promoción. Los animo a participar con nuestro contenido para apoyar los esfuerzos que se están realizando en todo el estado y para aprender algo nuevo sobre nuestra población latina / o / x aquí en Colorado.
---

Colorado Dems On The Road!


Regional organizer and Montrose Dems chair Kevin Kuns and his wife Bobbie joined the Gunnison Dems for a visit with AG Phil Weiser! CDP Asst. Secretary Josh Trupin joined his fellow Park County Dems to man a Dems booth for Burro Days in Fairplay!
---
Share the Dispatch
If you know someone interested in receiving our weekly newsletter, they can sign up here or they can visit our website at https://coloradodems.org/newsletters.