SEE YOU THIS SATURDAY?
Jobs + Economic Development Virtual Town Hall @ 10:00 AM
Job creation and economic development are cornerstones of building up a community. Development and job creation means more people move to an area for jobs, for shopping, for visiting family! How can we increase this?
Here in this edition of Colorado Conversations, we talk to experts and elected officials about promoting job creation and economic development, and what we can do as a state to continue to promote this all across Colorado!
Can't make it on Saturday, September 18? Check out the schedule of our upcoming Colorado Conversations virtual town halls and mark ones you're interested in on your calendar!
---

Thanks for Visiting Colorado, Mr. President!


In Colorado, Biden Talks Wildfires, Floods And The Need For Urgent Action On Climate Change
CPR News
President Joe Biden visited the National Renewable Energy Lab on Tuesday to pitch his "Build Back Better" agenda as a vital step toward fighting and adapting to climate change.
Biden said, "we're blinking code red" as a nation when it comes to extreme weather and climate-driven disasters. Before arriving in the state, he toured the Caldor fire in California, and he spoke to the smoke and flooding Coloradans have endured in recent months.
"You saw the vicious cycle this summer, when heavy rains combined with the burn scar of the Grizzly Creek fire," Biden said, noting the lengthy closures of Interstate 70 after flooding on wildfire burn scars trapped more than a hundred motorists and the fact that one in three Americans experienced a 'weather disaster' this summer. "The bottom line is: It's everywhere. It's everywhere."
---

The American Rescue Plan
How is it helping folks?



Pueblo City Council approves $1.3 million in ARPA projects for local nonprofits
Pueblo Chieftain
Pueblo City Council approved nearly $1.3 million from the city's American Rescue Plan Act funds to be used for 10 different projects aimed at helping the local economy recover from the effects of the COVID-19 pandemic.
...
Pueblo was allocated $36.7 million in ARPA money earlier this year. That money will come in two payments with half already in the city's coffers and the other half expected next year. The city opened a public portal for project suggestions, which were then evaluated by citizen task forces dedicated to various areas of interest.
...
$8,000 for Pueblo Food Project's "All Pueblo Grows Seed" program, which will distribute vegetable seed kits that participants can grow at home
$20,000 for Pueblo Food Project's community garden program
$23,725 for Pueblo Cooperative Care Center to upgrade its computer, cellphone and security systems
$28,050 to Rocky Mountain Service, Employment and Redevelopment to purchase a refrigerated mobile trailer to deliver food to Pueblo residents in need
$36,690 to Pueblo Cooperative Care Center for its "Power-Up Kidz Sacks" program to provide 6,000 healthy snack kits over 12 months
$150,000 to Pueblo Community College for its "Children First" program to expand child care options
$169,844 to Pueblo Cooperative Care Center for its nutrition on wheels program for Pueblo youth
$210,000 to Pueblo Soup Kitchen to meet increased demand because of the pandemic
$280,694 to Colorado Legal Services to employ a staff attorney for three years to help low-income tenants connect with resources to prevent eviction
$360,000 to Health Solutions to employ five mental health professionals and one case manager to provide co-responder services to Pueblo Police Department
Remember -- Colorado Republicans like Lauren Boebert, Ken Buck, and Doug Lamborn all voted 'No' to helping Colorado families.
Meanwhile, all of Colorado's Democratic members of the Congressional delegation voted 'Yes'!
But how else does the American Rescue Plan specifically help Coloradans, you ask? Click the link to find out!
---

Local Candidates Corner!


Like the late, great Democratic speaker of the house Tip O'Neill famously said, "All Politics is Local". We couldn't agree more -- down ballot races are often where the most local and impactful offices are elected, and we want *you* to be aware of which Democrats are running for your local races! To help us help elect Democrats to every local seat possible, click here to get your very own Vote Local swag!
All proceeds go towards our efforts to elect Democrats up AND down the ticket!
Meet Candidates Running this November!
Democrats Running for Aurora City Council
We have a chance to flip Aurora's City Council BLUE!
Meet THE Democratic slate of candidates for the Aurora City Council! If we elect these five outstanding candidates (including re-electing council member Crystal Murillo), we can elect a Democratic majority on the Aurora City Council!
Visit their websites, and see how you can help get these folks elected!
---
Democrats Running for the Cañon City School Board (Fremont RE-1)
Todd Albrect and Molly Merry are the Democratic candidates running for school board in Cañon City and they need your help to get elected! Check out their Facebook pages and websites, and see how YOU can help them get elected!
---
EVERY ELECTION IS IMPORTANT! Share this graphic on your social media pages to encourage your friends and neighbors to get involved with your local 2021 races!
---

Opportunities with Colorado Dems!


ENTER THE T-SHIRT DESIGN CONTEST!
Looking to put your design skills to the test? Are you passionate about empowering people and protecting the planet? Us too!
Submit your design ideas for our By the People, for the People: T-shirt Design Contest by September 26! The winner will be featured in our online store during the month of October!
---
TELL YOUR STORY WITH A SELFIE VIDEO!
HOW HAVE DEMOCRATIC POLICIES HELPED YOU AND YOUR FAMILY? We're collecting stories and we're asking you to tell us *YOUR* story by recording a video! Reach out to Karin at This email address is being protected from spambots. You need JavaScript enabled to view it. if you have any questions. Otherwise, click the button below to fill out the form!
---
SIGN UP TO TESTIFY ON REDISTRICTING!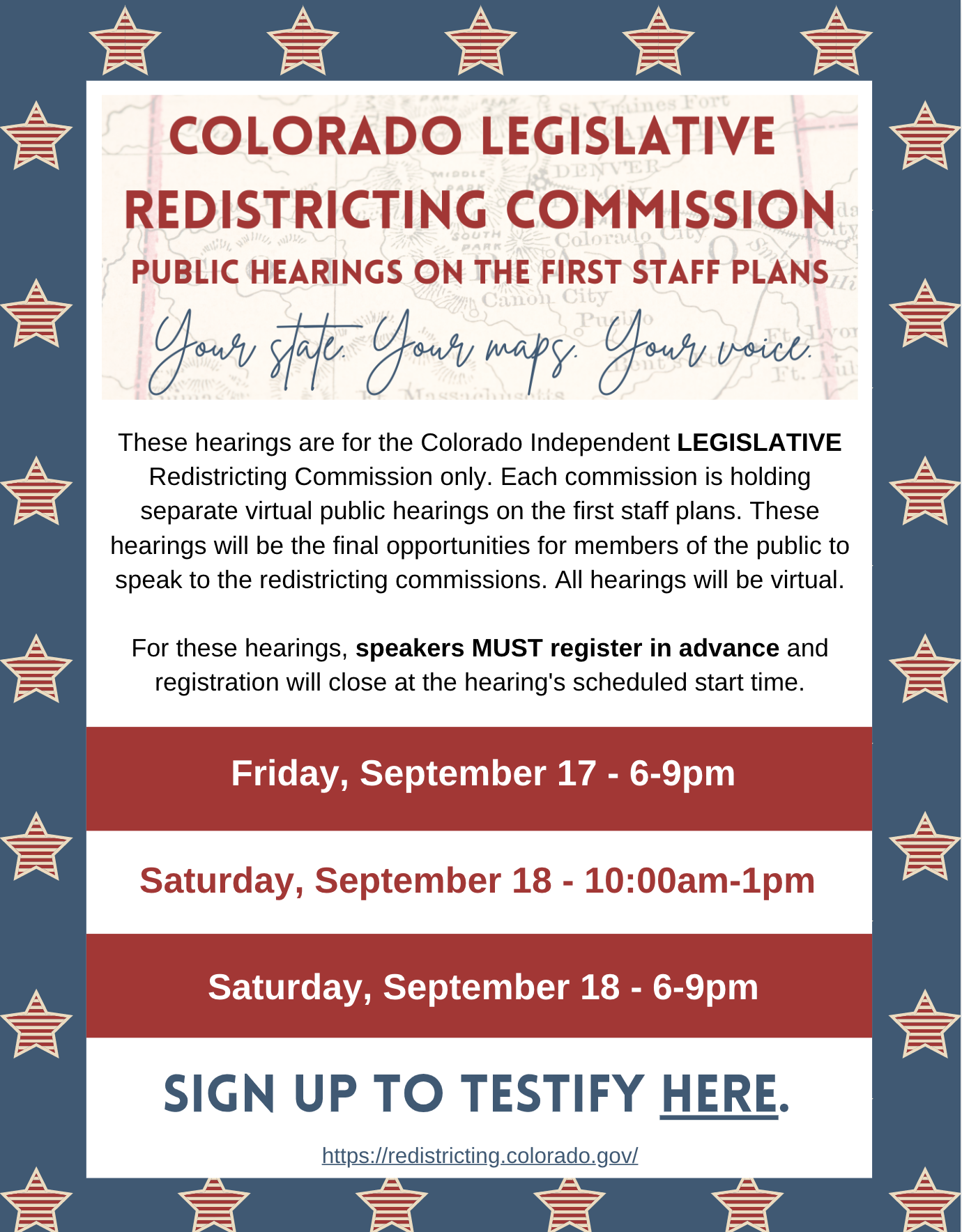 ---

County Parties and Initiatives!


Join the JeffCo Dems for their
Annual Eleanor Roosevelt Dinner!
Plan to join your fellow JeffCo Dems at their 47th annual Eleanor Roosevelt dinner
Saturday, October 9
Marriott Denver West
Bar and Silent Auction open at 5:00.
Dinner is at 6:30
The event will include remarks from some of our elected officials, a guest speaker (to be announced), and the presentation of the Eleanor Award to Lucinda Schneller!
Buy Your Tickets NOW: https://secure.actblue.com/donate/2021erticket
---
Sock Drop/Sock Hop Benefit: Help for Colorado Homeless LGBTQIA+ Youth
Throughout the month of September, Stonewall is accepting donations through our annual Sock Drop Sock Hop Benefit. We are one week into Sock Drop Sock Hop and we've raised $760 of our $2000 goal
Any donation helps Urban Peak provide clothing to keep these kids from freezing in the winter!
$5 - Two pairs of socks
$10 - Two pairs of socks, winter gloves
$20 - Four pairs of socks, winter gloves and hat
$50 - Four pairs of socks, undergarments, winter gloves and hat
$100 - Six pairs of socks, winter coat, undergarments, winter gloves/hat
Thank you to all of you who have donated so far.
All funds donated from September 1st to September 30th will be given to Urban Peak as part of the Sock Drop/Sock Hop Benefit. Visit the Stonewall Democrats of Colorado Facebook page for more details - https://www.facebook.com/stonewallcolorado
---

#DemsDeliver


How Biden's Build Back Better plan could help with housing in Colorado
Denver7
President Joe Biden says his $2 trillion Build Back Better plan consists of investments in different industries in order tackle climate change and boost the economy. One of them is an ambitious goal of building 1.5 million sustainable homes and housing units across the country.
---
Gov. Jared Polis, Sen. Michael Bennet Team Up To Get All Eligible Colorado Families Signed Up For Expanded Child Tax Credit
CBS Denver
Gov. Jared Polis and Sen. Michael Bennet are teaming up to get all eligible Colorado families signed up for the expanded child tax credit. They're promoting a mobile app that allows families to direct file a 2020 simplified tax return in order to receive the benefits.
---
As Colorado Announces Its Own Climate Corps, Democrats Push For A Far More Expansive National Version
CPR News
On Friday, Sorenson's current worksite at a Boulder County burn scar hosted a press conference to announce the new Colorado Climate Corps. Lt. Gov. Dianne Primavera said the program, funded by a $1.7 million federal grant, will place 240 AmeriCorps members in 55 counties across the state to protect public lands and help low-income communities brace for the climate crisis.
---

GOP Watch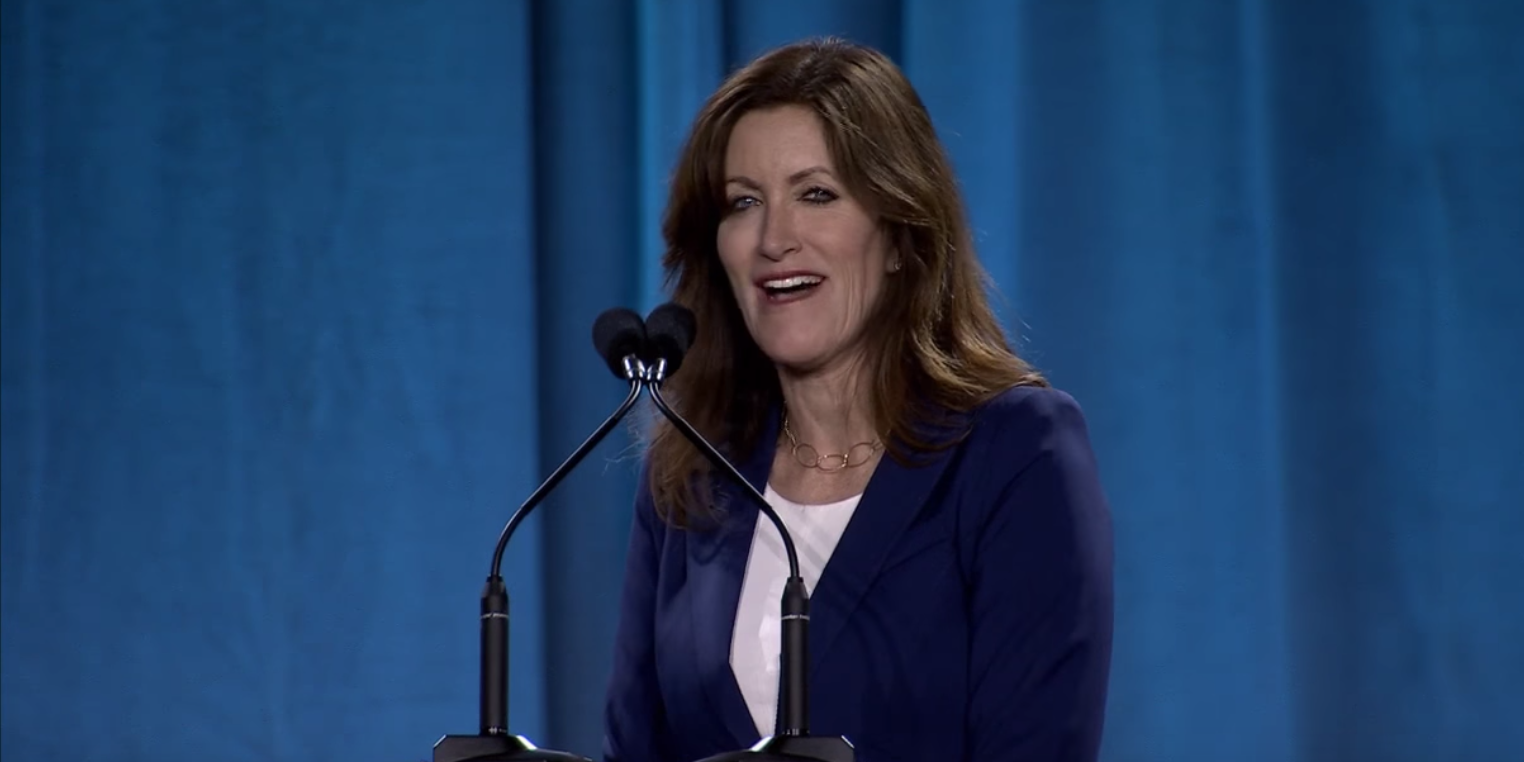 Who Is Heidi Ganahl, Republican Candidate for Colorado Governor?
Colorado Times Recorder
As the sole Republican statewide elected official remaining in Colorado following a blue wave in the state that's spanned multiple election cycles, she's the immediate frontrunner for the battered Colorado Republican Party.
Here's a roundup of the Colorado Times Recorder's news coverage of Ganahl:
---

Volunteer of the Week


Meet Bradley, this week's Volunteer of the Week!
Hi everyone! My name is Bradley Kurtz, and I am the Co-Chair of the El Paso County Democratic Party, as well as a member of my county's Executive Committee and the State Platform Committee. My involvement began in 2016 when I became a volunteer for the Clinton-Kaine campaign.
In 2018, I served as an advisor to the Betty Field campaign for CD-5 and jointly as an intern during Jared Polis' campaign for governor. Most recently, I served as Liz Rosenbaum's campaign manager during her 2020 campaign for HD-21 and have since filled a variety of advisory, management, and consulting positions throughout the local area. In Colorado Springs, I am a Starbucks barista and a student through Arizona State University. In my spare time, I enjoy drinking coffee, discussing politics, exploring Colorado's beautiful outdoors, and working on a few car projects.
I am involved with both my county and state parties because they are the vehicles of change that we need to continue to foster progressive and liberal policies with lasting change. I am thrilled and honored to be involved and look forward to meeting and working with all of you on many campaign trails to come!
Want to volunteer and help elect Democrats across Colorado like Bradley is doing? Click the button below to join our talent bank, and we'll get you plugged in!
---

Dems On the Road!


Thank you so much to everyone who join us for our Grassroots Reunion + Fundraiser last Thursday! We had so much fun seeing so many friendly faces that we haven't seen in so long! Special thanks to our speakers: Congresswoman Diana DeGette, Secretary of State Jena Griswold, Attorney General Phil Weiser, Treasurer Dave Young, Colorado House Speaker Alec Garnett, and last (but certainly not least) DNC Chair Jaime Harrison!
---

The Funnies


---
Share the Dispatch
If you know someone interested in receiving our weekly newsletter, they can sign up here or they can visit our website at https://coloradodems.org/newsletters.