Celebrating Cinco De Mayo!


Photo Credit: Cinco De Mayo, Denver from 2019
Happy Cinco de Mayo Colorado! While we are saddened that today will not be like most Cinco de Mayo celebrations of year past, we hope you still plan to celebrate (safely and responsibly!), and take today to honor all of the accomplishments and contributions Chicano culture has made to Colorado.
Cinco de Mayo is the anniversary of Mexico's victory against French Napoleon III forces at the Battle of Puebla in 1862. This battle marked a critical turning point in morale as it created a sense of national unity and patriotism in Mexico. The success of Cinco de Mayo was felt across the border as Mexican Americans at the time understood the potential ramifications if the battle had not been won. It was not until the 1960s during the Chicano movement which revitalized the holiday to celebrate its importance historically and to highlight what can be achieved when people come together. The Battle itself encompassed the success of unifying as one people towards a common goal. Colorado is fortunate to have a rich history of being the home of many Mexican Americans, Chicanos, and Latina/o/x's who are proud to celebrate today and everyday their heritage.
While we take today to celebrate our past, we must also look to the present and future, and acknowledge that there is so much work left to be done. Whether it's passing comprehensive immigration reform and reuniting families who have been separated at the border, passing and signing the Agricultural Workers' Rights bill into law in Colorado, or passing SB21-199 to solve the damage done to undocumented communities by the 2006 special session, we must continue the work together to arrive at equity and respect for all our communities.
---

The American Rescue Plan
How is it helping folks?


Photo Credit: Courthouse News Services
Polis briefed by HUD secretary on Colorado's aid for the homeless
Colorado Politics
Colorado stands to gain $67 million total from the $2.2 trillion American Rescue Plan, including $24.7 million state's division of housing.
Local governments will have the flexibility to use the money for housing and homelessness programs as they see fit.
...
The federal plan will eventually spend $5 billion to combat homelessness across the country, where an estimated 580,000 Americans a night were sleeping on the street, before the pandemic, said Marcia L. Fudge, who was confirmed as secretary of the U.S. Department of Housing and Urban Development, last month.
"The COVID-19 pandemic has underscored how important it is for everyone to have stable housing," Fudge said on the call.
Remember -- Colorado Republicans like Lauren Boebert, Ken Buck, and Doug Lamborn all voted 'No' to helping struggling Colorado families.
Meanwhile, all of Colorado's Democratic members of the Congressional delegation voted 'Yes'!
But how else does the American Rescue Plan specifically help Coloradans, you ask? Click the link to find out!
---

BILLS TO WATCH IN #COLEG


Agricultural Workers' Rights (SB21-087)
Dem Sponsors: Reps. Yadira Caraveo & Karen McCormick, and Sen. Jessie Danielson
The employees of farms, ranches and other agricultural businesses are excluded from some of the protections other Colorado workers have. This bill would change that, including allowing farm workers to unionize, bargain and strike, granting them protections other workers get from the Colorado Labor Peace Act.
Record Sealing Collateral Consequences Reduction (HB21-1214)
Dem Sponsors: Reps. Mike Weissman & Jennifer Bacon, and Sens. James Coleman and Pete Lee
There are more than 1.8 million Coloradans listed on the state criminal record database. For many of these individuals, involvement with the justice system has led to perpetual unemployment, housing insecurity, and the loss of income for themselves and their families. Legislation that increases the eligibility requirements for record sealing would work to address this problem, allowing individuals who committed nonviolent crimes a second chance to be productive members of society.
Standardized Health Benefit Plan Colorado Option (HB21-1232)
Dem Sponsors: Reps. Dylan Roberts & Iman Jodeh, and Sen. Kerry Donovan
The bill requires the commissioner of insurance (commissioner) in the department of regulatory agencies to establish a standardized health benefit plan (standardized plan) by rule to be offered by health insurance carriers (carriers) in the individual and small group markets.
---

Opportunities with the Colorado Dems


JOB ALERT!
The Democratic Senate Campaign Fund -- our initiative to protect the Democratic majority in the Colorado state senate -- is hiring a full-time finance director!
Colorado is a major target of Republicans in DC, and they're hoping they can flip the Democratic majority in the state senate to stop all the progress Dems have delivered to move our state forward for all! This is a great opportunity to be part of protecting one of the most important statehouse majorities in the entire country!
Interested? Click here to read the job description, and apply right away!
---
SAVE THE DATE:
Work for the Wave Webinars Coming!
Monday, May 17:
DOWN BALLOT DAY TRAINING: We all know what the President does and why that job is so important, but what about your County Commissioner, Council Member, or Clerk? In this training, we will cover some of the key down-ballot races you can expect to see on your ballot soon, what these offices do, and why it is important we run good candidates for every office no matter how big, or small!
Are you interested in taking part in any of these trainings? For questions/to RSVP, email Tyler McDermott at This email address is being protected from spambots. You need JavaScript enabled to view it.!
---
SAVE THE DATE:
Colorado Conversations Virtual Town Halls
The CDP is launching its virtual town hall tour for 2021, with this year's theme being "Colorado Conversations"! Each town hall will feature expert panelists and elected officials to discuss issues impacting our communities, what elected officials are doing about them, and how you can make a difference!
Click here or the graphic or the button below to join us for our first town hall on Saturday, May 15 that focuses on the State of Our Healthcare!
---
CDP Candidate Boot Camp This Summer!
For the first time ever, the Colorado Democratic Party is launching a Candidate Boot Camp for registered Democrats, focused on bringing candidates, potential candidates, campaign workers, and activists together to learn everything one would need to know to run for office.
From fundraising to field, from messaging to managing a candidate, from time management to campaign timelines, this training will prepare anyone seeking office or seeking to help elect Democrats at any level to take on any race in any corner of the state.
With so much great content to share and train on, this training will take place over three sessions held on the last weekend of the month over the course of three months, specifically May 22-23, June 26-27, and July 24-25.
Sign up link, agenda, and times to be announced soon! For questions, email Tyler McDermott at This email address is being protected from spambots. You need JavaScript enabled to view it.!
---

Initiative and County Party News!


What: Women Win! Town Hall Hosted by the Colorado Dems Women's Initiative
When: TONIGHT, Wednesday, May 5, 2021 at 7:00 PM MDT
Who:
City of Durango (La Plata County) -- Democrats retain the majority on the council!

City Councilor Jessika Buell

City Councilor Melissa Youssef (Incumbent)

City of Colorado Springs (El Paso County) -- Democrats FLIP a seat!

City Councilor Yolanda Avila (Incumbent)

City of Fort Collins (Larimer County) -- Dems elect a Dem Mayor for the first time since 1982.

Mayor Jeni James Arndt (currently House member - will be sworn in on April 27!

City Councilor Tricia Canonico (Flipped a Republican seat)

Moderator: Justine Sandoval, 2nd Vice Chair of the Women's Initiative
The Stonewall Democrats of Colorado will host their monthly membership meeting on Thursday, May 20th at 6:30PM!
At this meeting, the initiative will discuss Denver Pride 2021 Events, learn some basics about Stonewall and the Colorado Democratic Party, get updates from the Colorado LGBTQIA+ Caucus, and have an open discussion on LGBTQIA+ issues in Colorado.
If you would like to attend the Stonewall Monthly meeting, please register for the Zoom link at https://bit.ly/3nlB3PM
----
VOLUNTEERS NEEDED! The Stonewall Democrats of Colorado is looking for a few volunteers to help us create a professional video for the Denver Pride 2021 virtual parade.
If you have video production equipment or video editing skills, please email This email address is being protected from spambots. You need JavaScript enabled to view it..
---

#DemsDeliver


Michael Diaz-Rivera plays with his daughter, Aria, in their backyard on Aug. 14, 2020. Diaz-Rivera was
charged with a class 5 felony for what he says was less than 1 ounce of marijuana in 2006. He's in the
process of trying to seal his criminal record from public view. (Photo Credit: Moe Clark/Colorado Newsline)
Criminal records linger long after a conviction. This bill would allow more people to seal their records.
Colorado Newsline
When Steffan Richardson was released from prison after serving a year-long sentence, he felt like he was starting from scratch.
"I had nothing," Richardson, who is now the director of business development for Denver-based nonprofit Tribe Recovery Homes, told lawmakers on Tuesday. "I struggled to find stable housing and a good job like I once had. And all the issues I was facing were directly in regards to my criminal record."
A person's criminal record often bars them from housing and employment opportunities long after they have completed their sentence for a crime. A bill at the state Legislature aims to allow more people to seal their criminal records for a wide array of offenses.
...
House Bill 21-1214, which passed its first legislative hurdle on Tuesday, makes several updates to the process of sealing criminal records, creates an automatic process to seal eligible drug convictions, and retroactively allows adults and juveniles to petition for relief from collateral consequences to improve their chances for success after incarceration.
"This bill is about second chances" said state Rep. Mike Weissman in the House Judiciary Committee on April 20. "1.8 million people in our state have some kind of criminal record. That's over a third of all adults. I think we should find that pretty striking."
---
Photo Credit: The Washington Post
Biden's Betting On Public Support To Push His Agenda. Polls Show His Big Spending Packages Have It.
FiveThirtyEight
In his address to a joint session of Congress on Wednesday night, President Biden spent a lot of time extolling the virtues of the three massive spending packages that have quickly become centerpieces of his agenda: the $1.9 trillion coronavirus stimulus package, a $2 trillion infrastructure bill and a $1.8 trillion plan for child care, universal prekindergarten and more.
...
The American Jobs Plan, a $2 trillion bill to improve infrastructure, is also popular, but recent polls disagree on how much. According to Fox News, which was in the field April 18-21, the plan is fairly divisive: Although a plurality (49 percent) of respondents support it, almost as many (41 percent) oppose it. However, it received higher support in other polls, such as CBS News/YouGov on April 21-24 (58 percent support, 42 percent opposition) and ABC News/Washington Post (52 percent support, 35 percent opposition).
Monmouth University's April 8-12 survey, which detailed that the proposal would spend money on "roads, bridges and trains, internet access, power grid improvements, and clean energy projects," gave the proposal its gaudiest numbers. A full 68 percent of adults said they supported the plan, while only 29 percent opposed it.
---
How Colorado's senior senator Michael Bennet helped create a major anti-poverty program
Cañon City Daily Record
Beginning in July, Boyles can pay some of those with $300 monthly checks she'll receive from the federal government. For the first time in U.S. history, the government will pay all low-income and most middle-class parents a significant monthly allowance for each child, an idea that is decades old and popular in Europe, but required a 20-year lift in Congress.
At the center of this $120 billion social safety net — which is forecast to cut child poverty nearly in half but could expire after one year — is Colorado's senior U.S. senator, a wonky and unassuming 56-year-old millionaire who pushed this idea through during a new era of big government spending and direct checks.
"I believe we are on the cusp of an amazing moment in American history," Democratic Sen. Michael Bennet told a group of mothers in early April, "when we can say that we improved the fortunes of millions and millions of children and their families, but also the country as a whole."
---
Rep. Joe Neguse Holds Hearing To Discuss Growing Threat Of Wildfires
CBS Denver
Rep. Joe Neguse, a Democrat who represents Colorado's 2nd Congressional District, held a hearing on Thursday to discuss the growing threat of wildfires. Neguse chairs the House Subcommittee on National Parks, Forests, and Public Lands.
Lawmakers considered the impact of climate change and collaboration needed to address the year round risk of wildfires.
---
Coloradans in Congress lead twin wins on methane cleanup
Colorado Politics
The Senate voted 52-42 Wednesday to restore the Obama administration's rules to curb methane emissions, which were first adopted in Colorado when John Hickenlooper was governor.
Now Hickenlooper is in the U.S. Senate and was one of those voting to reverse former President Donald Trump's move to weaken regulations aimed at staving off climate change.
...
Meanwhile, U.S. Rep. Diana DeGette of Denver passed legislation out of the House Natural Resources Committee, 24-19, to capture methane gas emissions from oil and gas drilling sites on public lands.
---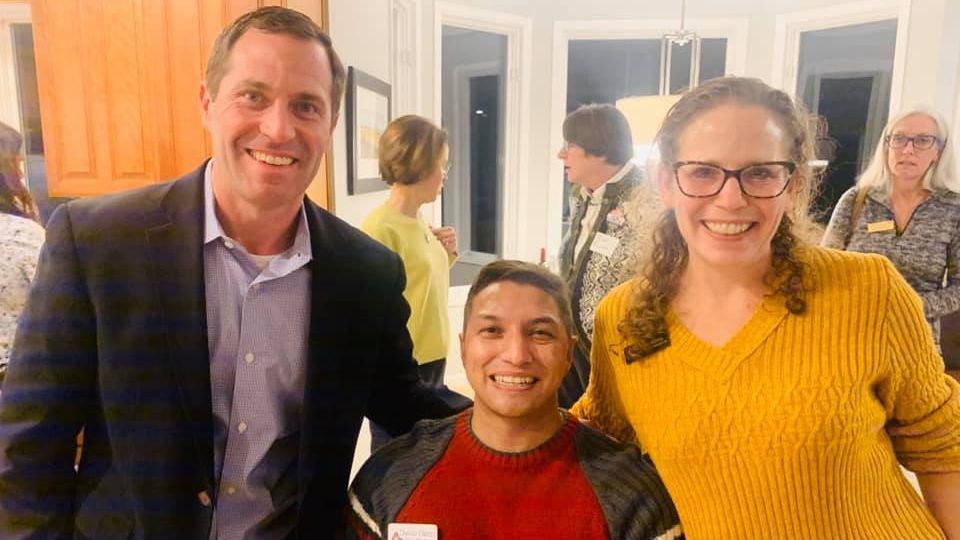 Veterans-Turned-Lawmakers Jason Crow And David Ortiz Reflect On How To End 20 Years Of War
CPR News
Rep. Jason Crow says it's time for Congress to take back its war authority from the president.
...
State Rep. David Ortiz also reflected on the news of the withdrawal and what's next for Afghanistan. The Democrat from Littleton was a helicopter pilot in the Army, and was injured in a crash in 2012 that left him paralyzed from the waist down.
---
It's Official: 'Historic' Coalition Unveils Plan To Pump Billions To Colorado's Transportation System
CPR News
They stood shoulder to shoulder on the Capitol's rotunda stairs Tuesday: transportation officials, the head of an environmental group, representatives from business groups, Democrats and even two Republicans.
They were a "historic coalition," Gov. Jared Polis announced from a podium below, the product of more than 100 meetings meant to build support for the day's occasion: a long-awaited transportation funding bill.
---

GOP Watch


Boebert opponents auctioning off Shooters Grill logo in response to demand to shut down parody site
Colorado Politics
A group devoted to defeating U.S. Rep. Lauren Boebert at the ballot box is auctioning off the logo used by Shooters Grill, the Silt Republican's gun-themed restaurant in Rifle, after a comedian said Boebert's congressional office demanded he take down a parody website filled with unflattering posts about the controversial lawmaker.
...
The email, which said it was from Boebert's press secretary, Jake Settle, claimed a parody website launched by Morton in January "needs to be taken down" because it used photos that "are copyrighted property of the U.S. Federal Government" and Boebert's congressional office.
---
Republican Ganahl Is Raising Her Profile for Possible 2022 Election Campaign, Say Experts
Colorado Times Recorder
But Ganahl hasn't articulated specific policy positions that reflect moderation, and she has no record of criticizing the Republican Party's right-wing flank.
In fact, when it comes to publicly supporting Donald Trump–easily the biggest wedge issue currently dividing the GOP–Ganahl parts ways with the moderates.
In nominating arch-conservative Ken Buck to lead the Colorado Republican Party, Ganahl declared that Republicans "are on the right side of history."
"It's time to get to work to re-elect President Trump, to re-elect Senator Gardner, and to win back the state legislature," she said in the speech.
---

The Funnies!


---
Share the Dispatch
If you know someone interested in receiving our weekly newsletter, they can sign up here or they can visit our website at https://coloradodems.org/newsletters.